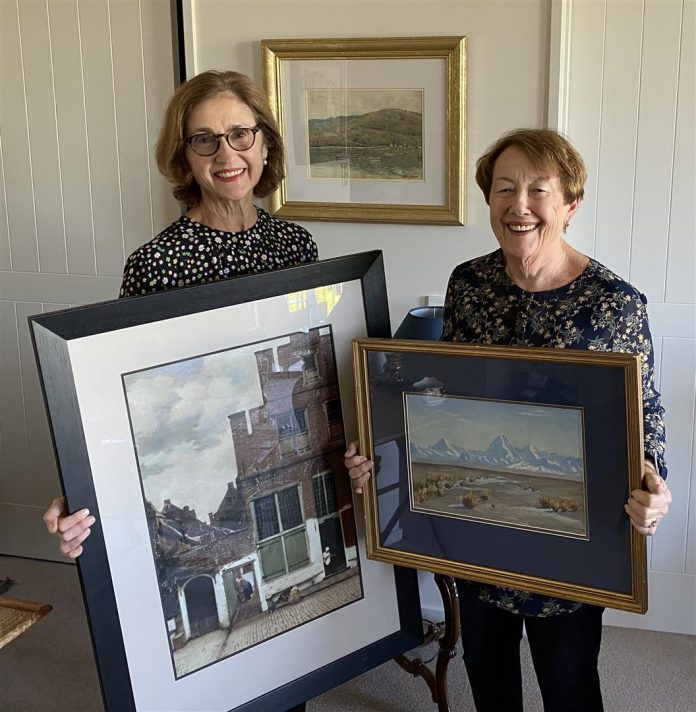 Advance Ashburton Community Foundation (AACF) are holding an art auction this month featuring the paintings from the Braided Rivers Community Trust (BRCT) collection and other artworks donated by members of the community.
The proceeds from the auction, at the Ashburton Society of Arts Short Street Studio on April 21 from 7pm, will go to the Ashburton Arts Fund to support art in the community.
The collection for sale will be on display at the studio on selected times from April 16 to April 20.
David Elliot, an award winning artist, illustrator and author is the Ashburton Arts Fund ambassador and will be the special guest at the auction.
Born and raised in Ashburton, David is keen to promote the fund and the potential for this to provide significant support for art in the Ashburton community in the future.
The Braided Rivers Community Trust (formerly, the Ashburton Licensing Trust or ALT) has amassed a significant art collection over the past 50 years.
The collection of over 40 paintings was mostly acquired as the winning works from the Ashburton Art Awards, sponsored by the Ashburton Licensing Trust.
For many years, these paintings were featured in the properties owned by the ALT, including the Hotel Ashburton.
However, in recent years, the operations of the trust changed and many properties were sold, leaving the current BRCT with a substantial art collection.
Since the sale of the Hotel Ashburton in 2016, the collection has been stored at the Ashburton Art Gallery.
In February this year, the BRCT board formally gifted eight paintings of cultural significance to the Ashburton community which will be retained in the collection at the gallery.
The remaining paintings were formally gifted to AACF.
Advance Ashburton is a community foundation that accepts donations, invests the funds and distributes the earnings for the benefit of the community.
In 2016, AACF established the Ashburton Arts Fund with an initial donation of $1000 from the Ashburton District Council.
The purpose of this fund is to benefit arts in the Ashburton community.
Held in perpetuity by AACF, the income generated by the fund will be distributed through grants "to provide assistance to any person, organisation or group in the Ashburton District in any manner whatsoever to enhance, develop, encourage, promote, achieve, protect, and/ or preserve any matter, pursuit or activity of artistic value".
In relation to this fund, "arts" is given the "widest and most liberal meaning possible, provided the grant is always used for charitable purposes".
Tickets for the Advance Ashburton Community Foundation art auction on cost $10 and can be purchased from the AACF office (Level 2, Somerset House, 161 Burnett Street), Sparrows or the Homestead Store.
Doors open at 6pm.
Phone and absentee bids will be welcomed and may be submitted during viewing or by contacting AACF executive officer Carolyn Clough by phoning 021 886 087 or 307 5902.