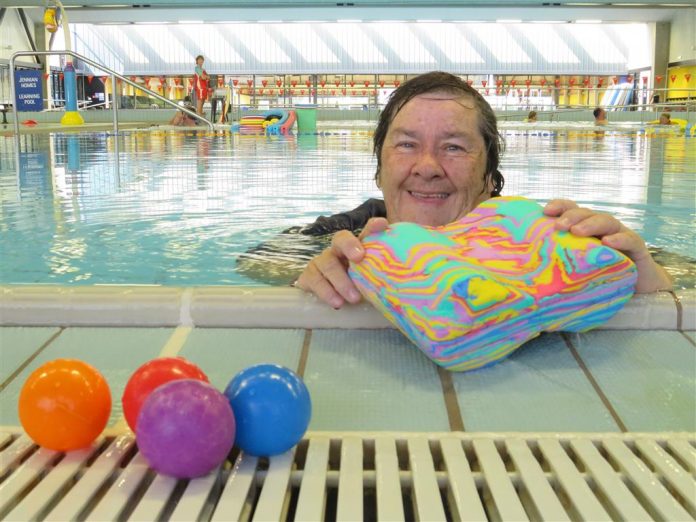 Bev Stevens has been teaching generations of children to swim over the years.

She started her swim career as a part-time lifeguard at the old-Ashburton Community Pool, on Walnut Avenue, and is
now an EA Networks Centre swim tutor who has this year notched up 35 years.

Bev grew up in rural Mid Canterbury and says she was always around water.

She went to Lauriston School which had, and still has, a school pool and on a good summer's day could swim up to four times a day.

Bev, now 67, said there was school class swimming twice a day, at lunchtime and, if they bailed up a teacher or parent, they could have a swim after school before the late bus run.

Bev's family also swam in the irrigation ditches, and, later, had a family boat for water skiing.

There was no fear of water, you learned and were taught to respect water, she says.

In adult life – and as a mother to two young daughters – Bev picked up part-time work at Ashburton's former community pool.

''I did lifeguarding first at the old pool, at the weekends,'' she says.

It was at time both her daughters were enrolled in the Mother and Tots swimming lessons.

Bev was asked if she would like to take over the tutor role from the tutor at the time.

It was an unpaid job Bev did for around two years.

''It's been 35 years since I started as a lifeguard,'' she says, ''cos I was doing that first.''

''Then it just became a paid job and we changed it to Water Babies and Preschoolers,'' she says.

She then took up a full time lifeguard position and carried on with the swim sessions.

She just does learn to swim sessions now, mostly choosing to guide younger swimmers taking preschoolers sessions, after school classes and private lessons.

''I just feel that some of the ones that take the other lessons have been through (swim) squad themselves and are better swimmers, so I feel it's better for them to take (the older classes).

''The little kids are quite cute. Just to see them overcome their fear of the water, it's just so important.

''No matter where you are in New Zealand there is water and so it's so important they learn to swim.''

In 35 years Bev has likely taught hundreds of children to swim.

She is now seeing the next generation.

''It's sort of getting to be the kids of the kids.''
She has parents, and grandparents say ''Oh my daughter used to come to you.''

Bev says helping swimmers overcome a general lack of confidence around water was rewarding.

She says notably in the past 30-plus years there were more children with disorders such as autism or Cerebral palsy being taught to swim.

There had also been a change in the interaction with children.

''Kids are more forward. You get kids answering you back more,'' she said, diplomatically.

''It's just sort of seeing their confidence grow that is really good to see.''

Learning to swim is a life long lesson, she said, even for the tutors.

What works with one child, does not necessarily work with another child, she says.

She has toy dinosaurs and Paw Patrol toys at her disposal to encourage children off the step into the pool.

Some need a lot of encouragement, she says.

At the old-Walnut Ave pool they used the roof, which had a turtle hanging from the rafters for kids to see when they were floating.

Nowadays they might ask the kids if they can see spiders in the roof.

''Most kids … once they can put their heads under, they are just so proud of the moment and you make it a big thing. Make sure mum is watching and then that makes them feel so proud.''

It's those moments and seeking the kids progress which keeps Bev working.

She has no plans to give up just yet.