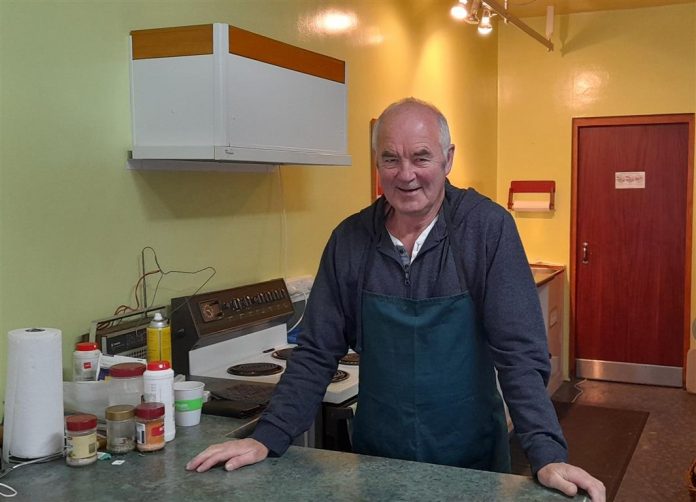 Ashburton caterer Dan Lysaght is hanging up his apron and putting away his serving bowls after a career spanning 40 years.
He has fed prime ministers, celebrities, national icons and colourful characters in the community but this year, has decided to retire.
His business All Fed Up is on the market and Dan, 70, has drawn a line in the sand to sell by the end of the month, with a view to finish at the end of the year.
Dan is hopeful someone else will take it on and is keen for a transition period to help any new owner over the next three months. The company specialises in spit roast for indoor or outdoor functions, and offer a variety of set menus for any occasion and any budget.
''I've really, really thoroughly enjoyed my 40 years as a caterer,'' he said.
''You get to see a lot of the same faces and go to some interesting places.''
His rewarding career started unexpectedly in the North Island in the early 80s.
He went looking for a business, other than food, and ended up with a function centre, he said.
That business grew and transformed, and after an eventual move back to Canterbury, All Fed Up was set up in Ashburton. It has a base in leased premises at the Creek Road shopping complex but Dan travels around the district and beyond as needed.
He has catered weddings, business functions, birthdays and meetings.
And worked in some remote locations, in extreme weather conditions.
But being self-contained with mobile gas operated roasters has meant catering was unaffected.
Gone are the days of shrimp cocktails or formal dining at weddings, more popular in the 80s, he said.
Now there was more finger food, buffet or smorgasbord options with spit roast meats, vegetables or salads, and increased gluten-free and vegetarian needs, which meant knowing what was in the ingredients.
Dan always thought he would work until he was 72, but now wants to use his time to do other interests.
He looks forward to waking in the morning and thinking ''what am I going to do today?''
He recalls the words of his brother who likened an average life of 80 years, as a sporting reference of two 40 minute halves.
''If you are 70-minutes on the paddock of life, do you want to spend the next 10 of the game playing it to the end, or do you want this body out to enjoy it?'' Fishing, jetboating, golf and travel feature high on Dan's future plans. There are also grandchildren to spoil. ''I feel now the time is right,'' he said. ''You just know.'' Not one to let his regulars down, Dan has taken forward bookings which he says he will honour, sale or no sale.
He has also committed to returning to the annual Christmas community lunch at the Tinwald Memorial Hall, in Ashburton, which he has been catering for the past eight or nine years.
Christmas Day is also his birthday; he will be 71.