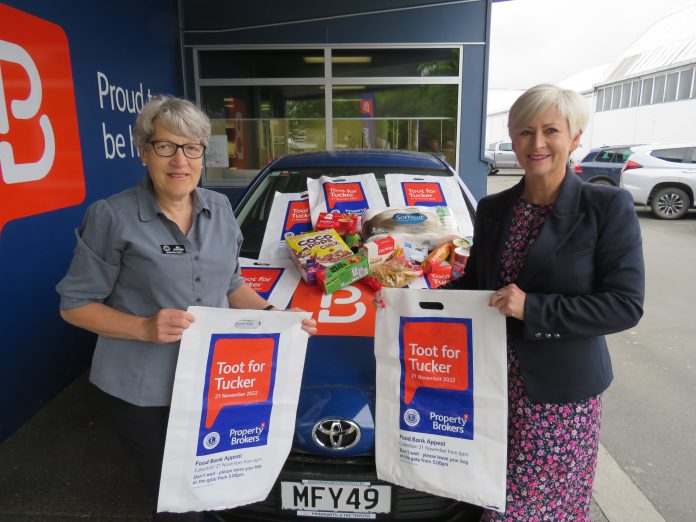 Got some spare tucker? The annual Toot for Tucker appeal is happening on Monday evening, and organisers are hoping for your help.
The nationwide initiative works to restock community foodbanks with non-perishable food and grocery goods, enabling foodbanks to continue to support individuals and families in need.
Organisers said it was particularly important to have good stocks going into the Christmas season.
Jill Stephen, a representative of Ashburton County Lions and co-director of this years' local Toot for Tucker appeal said ''anything non-perishable is perfect … we appreciate any small donation''.
She said donations needed to have current expiry dates and be unopened.
In addition to food, things like women's sanitary products, pet food, toiletries, and other household items are also welcomed.
Karen McRae, of Property Brokers Ashburton who are sponsoring the local appeal, said they are grateful for whatever can
be donated, and hoped to see the variety seen in previous years.
''We always get quite a good range … Some treats are nice for Christmas time as well,'' she said.
Toot for Tucker branded bags were delivered to letterboxes last week, and people are asked to put their donated items into the bags and leave them at their gate or driveway end on Monday after 5pm.
Volunteers will drive around tooting to let people or households know they are coming and collect the bags of food.
The donated groceries will be sorted and distributed to Presbyterian Support, Salvation Army and St Vincent de Paul to replenish their foodbanks.
''It's a lovely community event that Property Brokers are proud to be involved with,'' Karen said.
She said anyone who missed receiving a bag can put their donated groceries into any bag or box, which can then be left in a
visible place for volunteers to collect.
Collectors will make two trips down each street, tooting their horns each time to alert people they are coming and to give people an opportunity to put food out should they forget the first time.
Anyone interested in volunteering as a collector is welcome.
Current and prospective volunteers are asked to attend the headquarters and safety debrief, held at the Ashburton Showgrounds on Monday from 5pm, accessed from gate five on Seafield Road, opposite the cemetery.
-By Indi Roberts