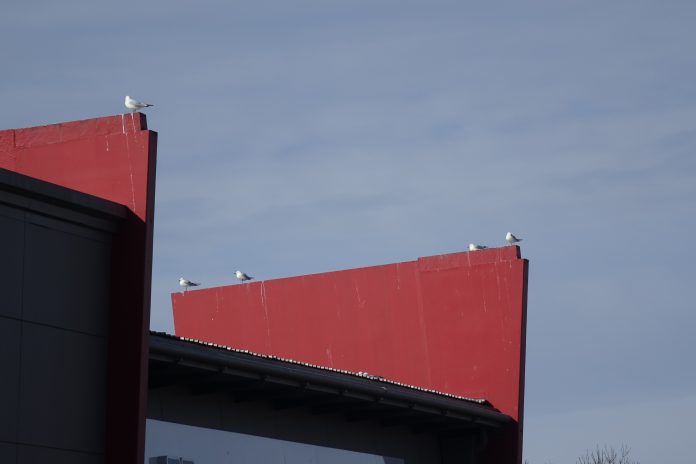 Endemic black billed gulls are back to being a nuisance in Ashburton as their breeding season approaches.
More than 50 of the birds are congregating around the Harvey Norman and Mitre 10 buildings.
Harvey Norman has bird poo streaked down the side of its building as the gulls have been perching on and flying around the building over the last month.
The gulls were a serious problem in 2019, when about 300 congregated in the area and fouled carparks, footpaths and customers' cars.
At that time Harvey Norman and neighbouring buildings installed hawk kites, which worked to deter the birds.
However, as of early this week there appeared to be no hawk kites in operation at Harvey Norman.
Harvey Norman building owner Chris Redmond said the kites were prone to getting blown away in nor'west winds, but the building's pest control contractor would be reinstalling them. He was confident the birds would not linger.
Mitre 10 Ashburton owner operator Simon Lye said he had noticed the flock flying around the store over the last month, but was not concerned. This was because hawk kites on top and metal spikes on the side of the building, installed after the ''terrible'' time of 2019, were still working.
''We hope we have enough deterrants, so 50 birds might just go away,'' Simon said.
''Being next to the riverbed, it's part of life.''
He said it had cost more than $20,000 to clean the Mitre 10 roof after the gulls had been there in 2019.
Forest and Bird Ashburton president Edith Smith applauded building owners for using hawk kites to discourage the gulls. Oamaru had traditionally had a problem with red billed gulls nesting on buildings, and it was important Ashburton's black billed gulls were not tempted to do the same thing.
''It doesn't enamour people to like the birds,'' she said.
She hoped the flock would move off soon to nest on the Ashburton River, near the State Highway One bridge.
Black billed gulls have traditionally bred at the site, providing a birdwatching spectacle from the pedestrian path on the bridge. However, they were not there last season.
Edith said the recent flood in the river had cleared the site of weeds, which would improve the chances of a colony setting up there. The birds liked to nest on wide open expanses of shingle with no vegetation.
The status of black billed gulls is at-risk, having moved one step away from critically endangered in 2021. The change in status represents an improvement in outlook for the birds. Critically endangered is just one step away from extinction.