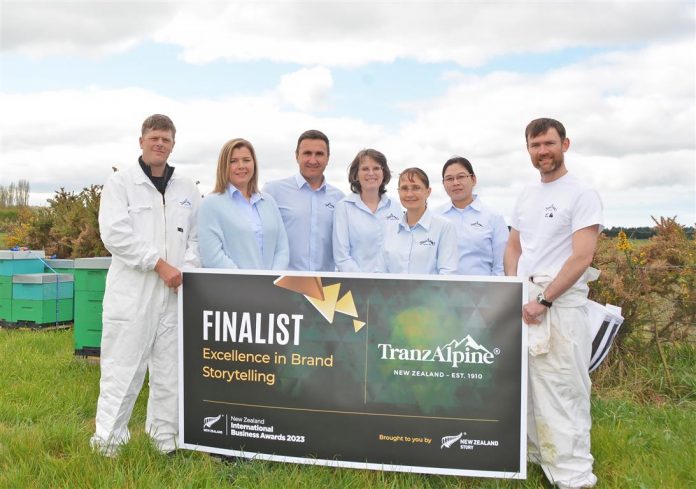 TranzAlpine Honey has been named a finalist in the 2023 New Zealand International Business Awards.
The awards celebrate the success of New Zealand exporters and recognise excellence and innovative practice.
The Mid Canterbury business is home to a fifth generation family of beekeepers and has been recognised in the Brand Storytelling category of the awards. There are 50 finalists named in 10 categories.
TranzAlpine Organics managing director Yuriy Soshnikov said the team was ''buzzing with the news''.
''We are just a small organic honey operation based in Ashburton that produces our honey the old-school way. So this is nothing short of a huge accolade for us.
''Our ethos has always been first and foremost – the conservation of our pollinators. Five generations of commitment to organic practices and 30 years of being organically certified is something we are very passionate about,'' he said.
''As New Zealand's #1 Organic Honey Brand, we are proud to produce the highest quality organic honey that doesn't come at the expense of the environment or our bees.
''Right from the start, 113 years ago, we knew this was going to be a lifelong commitment."
"Every time someone chooses organic and New Zealand-made a vote is cast to protect our pollinators, boost our biodiversity and help us to reduce our impact so that we can produce healthy food without compromising future generations' ability to do the same."
Finalists for the awards, run by New Zealand Trade and Enterprise, span throughout New Zealand and across a wide range of industries and sectors. They represent the bravery, ingenuity and ambition of New Zealand exporters as they enter and grow in international markets.
Winners across the categories, plus a Supreme Award chosen by judges, will be named on November 23 at a gala awards dinner in Auckland.
Convenor of judges David Downs said it was a privilege to hear from some ''remarkable people and businesses'' in judging this year's awards.
''It's not easy to pick out finalists from as strong a field of entrants as we had, but we think Aotearoa New Zealand should be proud of the calibre of businesses that are representing us in international markets day in and day out."
Other finalists in the Brand Storytelling category are AWWA, Egmont Honey, Kids Ride Shotgun, Legend Story Studios and The Pokeno Whisky Company.