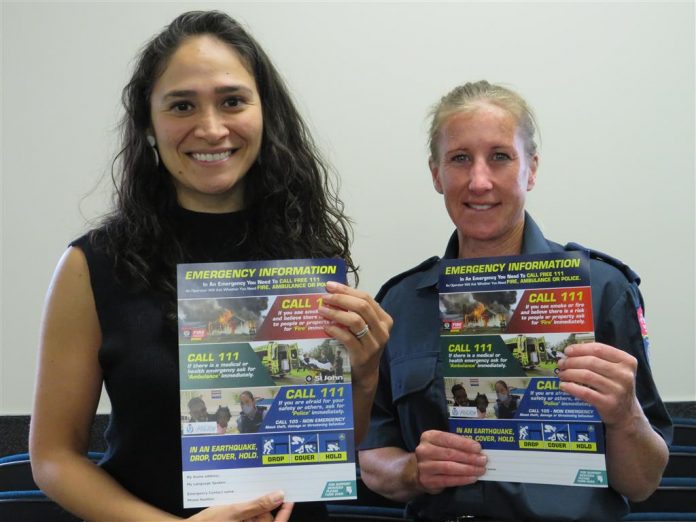 An emergency services poster, printed in English, Te Reo Maori and seven other languages has been printed from a collaboration of agencies.

It has useful information about emergency services and support agencies available in Mid Canterbury. Fire and Emergency New Zealand adviser community readiness and recovery Donna Lindsey said it had been a collaboration of FENZ, St John and Police, with Rural Support Trust and Farming Families.

Along with English and Te Reo Maori, it has been printed in Arabic, Hindi, Mandarin, Samoan, Spanish, Tagalag and Tongan.

"It has all been translated (except) the words Fire, Ambulance and Police are in English so then they have a better chance of translating what service they require."

"We are hoping that even in the English with the pictures and the way its been written, they can interpret that and understand the basics of when to call 111 and which service they will be asking for," she said.

The A4 poster, with a magnet on the reverse to stick to the fridge, directs people to the emergency services phone numbers and who deals with which event in each case.

It may seem simple to Kiwis used to the 111 system, but to people who speak English as a second language, it could be the difference between life and death.

The poster says "In an emergency you need to call free 111. An operator will ask whether you need fire, ambulance or police."

Each service is identified, and lists when its time to call.

The poster had received a lot of support from the rural community and Donna was very thankful to Rural Support Trust and Farming Families for their financial, and overall support in getting the project completed.

"A lot of migrants don't get a lot of information when they do come in to the country, so lots of simple stuff like the emergency services number, and the fact that it is free, and people are here to help, they don't know."

The poster was officially launched last week in Ashburton and distributed to agencies and organisations. Attendees included Mid Canterbury emergency services and people from Ashburton District Council, Hakatere Multi Cultural Council, Dairy Holdings Ltd and Canterbury Police.

At the bottom of the poster is a personal information section and on the reverse are a list of 15 support services in the district.

The posters are available at agencies district wide including Hakatere Multi Cultural Council and council facilities.

Emergency information:
Call 111
If you see smoke or fire and believe there is a risk to people or property ask for 'Fire' immediately.

Call 111
If there is a medical or health emergency ask for 'Ambulance' immediately.

Call 111
If you are afraid for your safety or others, ask for 'Police' immediately.

Call 105 – Non Emergency about theft, damage or threatening behaviour."

In an earthquake, drop, cover, hold.