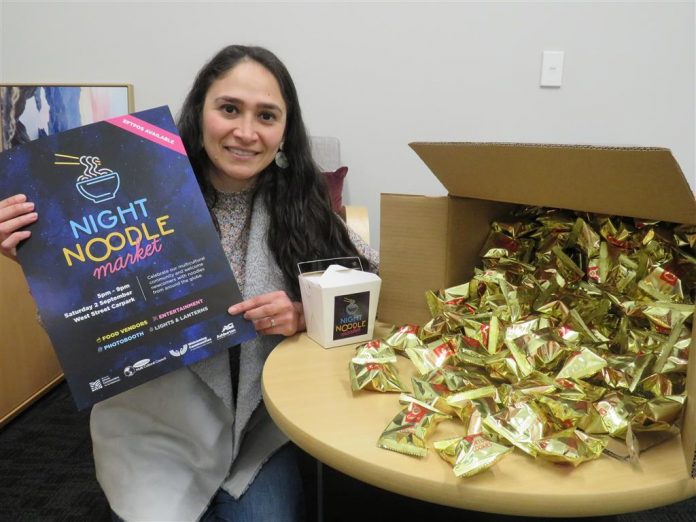 Noodles and live music in Ashburton's West Street car park next weekend will make it the place to be.
Hakatere Multicultural Council and Ashburton District Council Welcoming Communities are joining together for Ashburton's first ever Night Noodle Market. It's on September 2, the first Saturday of spring.
Multicultural Council member, and Newcomers Network Mid Canterbury coordinator, Mercedes Walkham said night noodle markets were popular all around the world.
The car park would be the place to be for those who enjoy noodles or were looking for a great evening of food, celebration and entertainment.
The event would be part of New Zealand's Te wiki o manaaki Welcoming Week, which has a theme this year of Nav mai ra ¯ – Glad You're Here.
At least a dozen food vendors had already been secured for the night. Some local restaurants were also taking part in the evening. Each vendor would be selling at least one noodle dish.
''There may be other food on offer, that is over to the vendor,'' Mercedes said.
The idea behind the evening was to celebrate many cultures ''and to welcome those cultures and newcomers to the district, and provide a great and fun evening.''
As well as enjoying the food, atmosphere, and live music from Tyrone Schwalger, the evening would give people the opportunity to walk around the redeveloped area, taking in the lights in trees along East Street while enjoying an evening out.
Entry to the night is free. Those attending are encouraged to take their own reusable containers for the food they buy, to assist with the reduction in waste.
In the event of rain, the market will be postponed to the next day. It runs from 5pm to 9pm.
Welcoming Week has been celebrated for the last 11 years.
It encourages communities to celebrate, particularly through events, the cultures which live and work in the area.
It is also about cultures gaining a mutual understanding of each other, which helps bring stronger connections.
These connections lead to more inclusive communities and provide environments where all residents can feel a sense of belonging and thriving.
Immigration New Zealand says Aotearoa is one of the most diverse countries in the world, with people of more than 200 different ethnicities.
Night Noodle Market will be at the West St car park 5-9pm September 2. The postponement date is September 3.