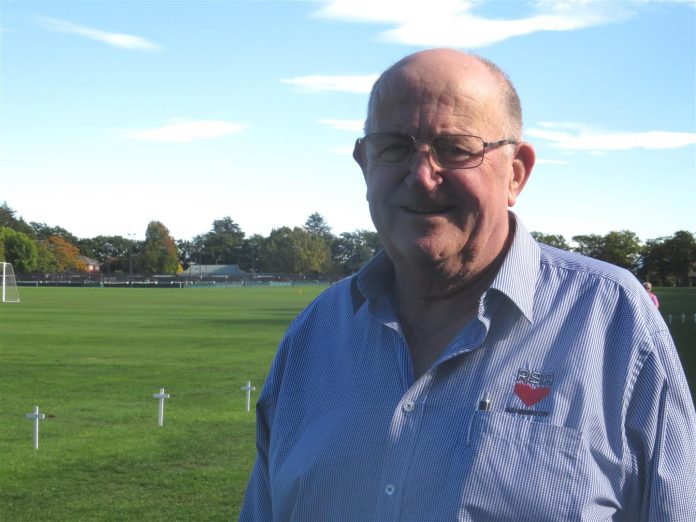 Anzac Day remembrance ceremonies in Ashburton this month will include the return of the popular cemetery service.
It will start at the old flag pole on the cemetery grounds at 9am.
Both the dawn service at 6.30am and the Civic Service, at 11am will be held at the Ashburton Cenotaph, at Baring Square West, in front of the Ashburton District Council office.
Ashburton RSA president Merv Brenton said speakers are Rangitata MP Jo Luxton at the dawn service, Air Training Corp squadron leader Luke Sutton at the cemetery and mayor Neil Brown at the civic service and Ashburton College student leaders.
''There will be no parade as normal,'' he said.
The band will do a short march-in but there will be no parade similar to last year's event, he said.
Wreaths for the cenotaph are to delivered to the Ashburton RSA, Doris Linton Lounge on Monday between 1pm and 4pm.
They will be taken to the service at the cenotaph where groups can lay them – when their name is called at the service – or they can have cadets lay them on their behalf, Mr Brenton said.
Groups will assemble around the cenotaph where they used to years ago, in a more relaxed manner rather than in parade formation.
All the districts services will resume, he said.
Anzac Day, on April 25, is a day of national remembrance, where the nation comes together to acknowledge the men and women who have served, been injured or died in service to their country. The date, April 25, marks the anniversary of the landing of Australian and New Zealand soldiers – the Anzacs – at Gallipoli in 1915. Thousands lost their lives. People are invited back to the RSA to use the facilities following the services.
ANZAC Day services:
6.30am – Dawn Service at Cenotaph Baring Square
9am – Cemetery Service
11am – Civic Service & Wreath Laying at Cenotaph Baring Square
Community Services:
7.30am – Hakatere Marae, followed by breakfast
9.15am – Ealing Hall, followed by morning tea (bring a plate).
10am – Hinds Hall, Lauriston Hall, Mayfield Memorial Hall, Methven's Mt Hutt Memorial Hall, Rakaia Community Centre.
4pm – St Patrick's Church, Dorie.