Tennis stalwart Peter Leonard has been surprised, and humbled, with a Life Membership of Mid Canterbury Tennis.
It was awarded to him last week.
Leonard, 57, started playing tennis nearly 50 years ago after tagging along with his dad, Michael, who played at many rural courts around the district. He hasn't looked back.
''Tennis is something that is individual. You get out of it what you put into it and it's something you can go out and enjoy,'' Leonard said.
''I've made so many friends over the years. I've got lifelong friends I've met 40 or 50 years ago that I still play tennis with now, in all different centres around New Zealand.''
He said it was how he met his first wife, and his children had all played.
It was while sitting at number one in Mid Canterbury for open grade when he realised a lot of people looked up to him.
So he, and fellow player Mike Sibley, started coaching kids around the district's clubs.
Coaching was not available in his youth. It proved very popular.
''If you can pass on some of your skills or knowledge and help someone develop then that's good.
''And it's not just about the tennis court because the things you learn on the tennis court help you in life and other areas as well. Your job, your work, your family.''
Leonard, who is now club president, said Mid Canterbury Tennis has around 250 affiliated players, as well as Wednesday and Thursday night leagues.
He said being awarded a life membership had been an unexpected honour, and being reminded of his tennis history did ''bring the old watery eyes out''.
There were things he had forgotten, and things with which he had fond memories.
He was full of praise for the tennis fraternity in the district, and its governance.
''We've got a really great board … a good junior committee … bloody good coach, Jack (Tiller), he's brought the kids to the next level.''
''It's something to be proud of,'' he said, of Mid Canterbury Tennis.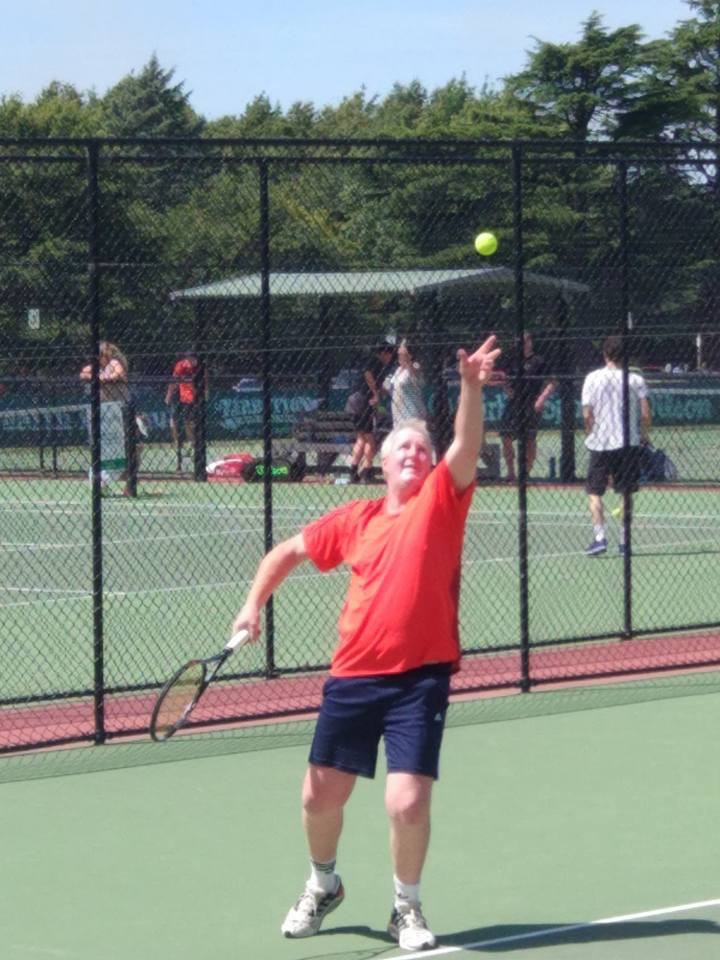 Mid Canterbury Tennis board member Gary McCann, who nominated Leonard for his life membership, said Leonard had given much of his life to the game in Ashburton.
''He has a deep passion for the game of tennis and started playing at just eight years old,'' he said, during his citation.
''Fifty years later, he continues to have as much dedication and passion for the game as he did all those years ago.
''Peter has achieved much in this game due to his sheer hardwork and determination.
''He won the Gala Cup men's singles in 1991, before going on to win three championships in a row. He has 22 Gala Cup titles in all four singles, nine doubles, and nine mixed doubles.
''He won the Gala Cup mixed event with his daughter Ashleigh an impressive four times, and made the Gala Cup doubles final with his son Tyler.
''Peter was also part of the Browning Shield for the last decade and was part of a winning campaign. Peter was also involved in a winning campaign at the national team's event going unbeaten with an injured Tony Brosnahan and a very sick Andre Van Rooyen.
''As well as his impressive oncourt resume, perhaps Peter's legacy in our game will be great in what he has managed to contribute, off the court.
''His commitment to tennis coaching throughout the region for many years and the unrelenting desire to see his students grow, again – both on and off the court – has inspired everyone that has witnessed Peter work.
''He has been an inspiration to many of his students and is always extremely thrilled to witness many of them grow into great players, but more importantly great people in life.
''His commitment to the representative selection process with an outstanding record of achieving success has been known around Mid Canterbury / Canterbury also throughout the country for many years.
''Peter has been on the Mid Canterbury Tennis Board for eight years and has been instrumental in many areas of decision making.
''Much of Peter's work is spent out of view, committing a significant amount of his own time throughout the entire year to make Mid Canterbury Tennis a great organisation to be part of.
''He also spent over four years as the tennis reporter in local media, reporting on tennis within the region. This has been an important role in promoting our game to the people of Mid Canterbury.
''Mid Canterbury Tennis is almost unparalleled, and Peter deserves recognition. Peter Michael Leonard's passion, hard work, and commitment to Mid Canterbury Tennis and this community has made it a better one for all of us to be a part of,'' McCann said.