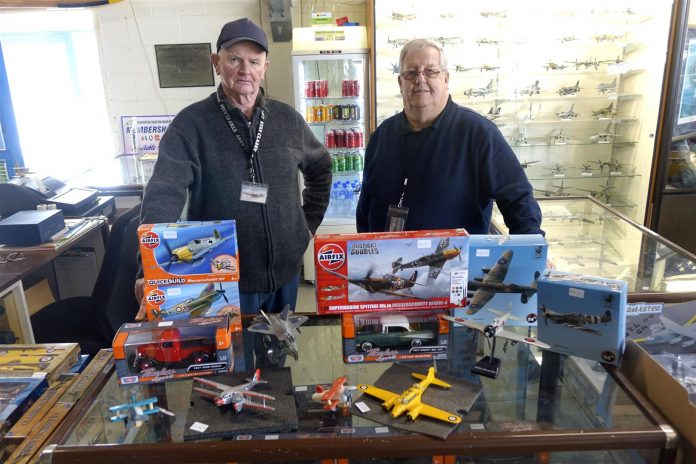 The Ashburton Aviation Museum has a few other treasures on show, and what sets them apart from all the other aircraft, you can take them away.
The museum shop has a wide selection of models available to purchase.
They are a great gift idea or souvenir to remember your visit to the museum.
Aviation Museum shop manager Greg Wilson said they have models for all ages from diecast planes for the enthusiast to kitsets for teens and little wooden toy planes for the kids.
The 1:72 scale diecast planes are top of the line models for adults who are collectors or just want something impressive on their desk or shelf.
The diecast models available include iconic World War II planes such as the British Lancaster bomber, Spitfire and Hawker Hurricane, German Messerschmit and Japan's Zero.
All the diecast planes are built with no assembly required.
For those who like the challenge of building a plane from scratch the shop has a selection of the more traditional Airfix plastic kits which require construction using glue and are finished with paint and decals, all included in the kits. These are for the skilled hobbyist.
For the younger aviation fans there are plastic kits where a few key parts can be screwed together with no painting or glue required, the finished product is an impressive model.
''When they are together they are really authentic looking,'' Greg said.
There are Quickbuild kits that click together similar to Lego, with no glue or paint required.
There is even something for the toddlers, little wooden planes, perfect for pushing along the ground.
Aviation Museum member Dennis Swaney said it is the only place in Ashburton selling the models.
''No-one in town is selling these, so we've taken the bull by the horn and got into it, and it's done really well.''
Although not many people in Ashburton know the museum sells models, Dennis said people from further afield visiting the museum are impressed by the selection and usually buy a few.
As well as model planes the shop has jigsaw puzzles, LED plane displays, diecast vintage cars, military vehicles and tanks.