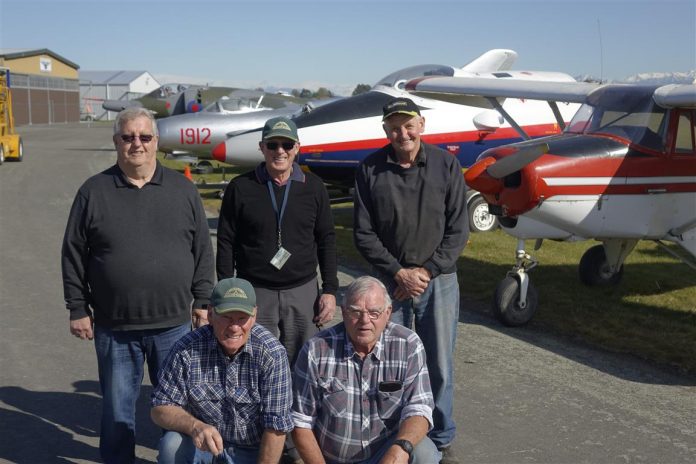 The Ashburton Aviation Museum has been a hive of activity this week as it prepares for the Military and Aviation Extravaganza show this weekend.
If you go along to the show you will not only get an up close look at military equipment, weapons and aircraft, you might also find yourself flying in a WWII aeroplane.
The museum is running a raffle for two flights in a T28 Trojan – an American WWII aircraft carrier plane.
Ashburton Aviation Museum's Dennis Swaney, the event team leader, said they will draw a name from the raffle at around lunchtime on Saturday and Sunday.
The tickets cost $5 and will go towards the new aviation museum hangar building fund.
Ashburton Aviation Museum members were all hands on deck this week putting up the fences that will ring the event and maneuvering planes into position.
Dennis said preparation was progressing well for the weekend.
''We've got all the hangars cleaned out ready to go, all the military equipment and army displays will be put up over the next few days.''
All aircraft at the museum will be on show, most of them outside the hangars so people can get a good look at the aircraft and achance to take photos of the planes in the open air.
Most of the military equipment had been stored in hangars in preparation for the show, Dennis said.
''There are others arriving, we've got a couple of tanks coming and some traction engines that were used during the Second World War.''
The event has been rescheduled from Waitangi Day last year which was cancelled because of covid restrictions.
Re-enactors from the Allied and German armies, dressed in authentic WWII uniforms and armed with replica weapons will be at the show and mock battles will be fought involving pyrotechnics with rifle and machine gun fire and smoke grenades going off.
The weekend forecast is looking good, so get along to the Military and Aviation Extravaganza at the Ashburton Airport this Saturday and Sunday, gate sales open at 9am.
~By Daniel Tobin