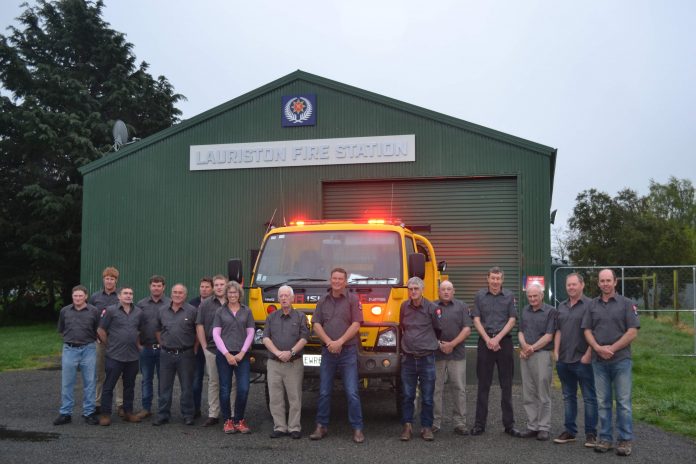 Lauriston volunteer fire brigade members will celebrate 50 years of operation in December.
The brigade, which predominantly responds to vegetation fires and car accidents, began operating in 1972.
Lauriston volunteer fire brigade secretary Carol Wilson said ''It's changed so much from what used to be J R Leonard – it was at the garage here at Lauriston – and I think his wife used to just phone around people and say 'there's a fire'.
''They'd basically just go in whatever clothes they'd got on and grab someone's tank, and they got the job done, but it was nowhere near as professional as what we've got now … we're very lucky now.''
Chief fire officer Mark Shears has been with the Lauriston crew for 12 years.
He's seen it all in his time, including the transition of going from a council owned station to joining with Fire and Emergency New Zealand (FENZ).
''We got a new shed and a new truck… which has been awesome,'' he said.
When he first started with the Lauriston crew they would often have around 50 call outs a year.
In recent years he said the calls have dropped to between 15-20 call outs a year.
''We've been sitting steady with about 20 members in the brigade for as long as I've been there,'' Mark said. ''And we've got a range of experience, from Des who's been there for nearly 60-odd years, down to someone who's done only a couple of years. We've got a huge range of experience and age and knowledge that we all enjoy sharing with each other and passing on.''
Over the years the crews have been involved in fighting various large-scale emergencies across New Zealand and assisting other fire stations.
''We've been to the Port Hills fires, we went down to the Pukaki Downs fire a couple of years ago, and then just local fires that we've been to as well. We had a crew that went up to the Nelson flooding just not long ago.
''We're normally lucky enough that we do end up with enough to make up a crew to go and help out,'' Mark said. To celebrate the Lauriston station's 50th anniversary the crew will be involved in three events over two days.
On Friday (December 2) they will be visiting Lauriston School between 10.30am and 2pm, where they'll teach kids about fire safety, host colouring in competitions, have fire gear on display, and facilitate a bunch of games.
On Saturday (December 3) the crew will be hosting a community-friendly event at the Lauriston Fire Station which will include a free sausage sizzle, FireWise and risk education, demonstrations of fire equipment including hoses and pumps, afire truckthemed bouncy castle, and real fire trucks on display.
The community day is free to attend and will run from 11am to 3pm.
''This event is a celebration for all those in our community and a 'thank you', as many people have helped with fires over the years and they may not have been members of our brigade,'' Carol said.
That evening a dinner and annual awards ceremony will be held at the station for current and past Lauriston fire crew.
The dinner is an invite-only event and will bring recognition to those who have served under the Lauriston Fire Station over the past 50 years.
While they aren't actively looking for new members to join the crew, Mark said if there were any young locals keen on getting involved with firefighting they will ''never turn anyone away''.
''There are operational roles and we're just starting to implement nonoperational roles which can help the brigade without actually turning out,'' Mark said.
Anyone interested in coming along to celebrate the crew's milestone on December 3 is welcomed.
Carol says it will be a great day for the whole family.
''If anyone would like to come to the dinner just contact us.''
For inquiries about the anniversary, please contact Carol on 027 631 6642.