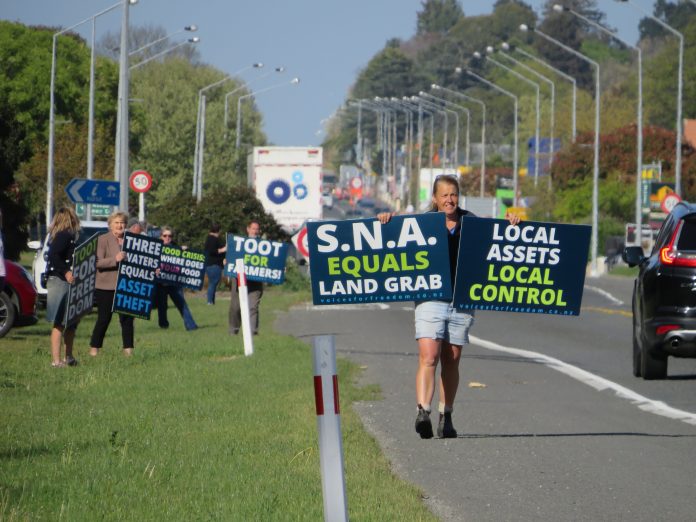 Around a dozen protesters lined State Highway One, north of Ashburton in support of Groundswell NZ's ''we're not going to take it'' nationwide protest.
The protest was in response to the recent release of government's agricultural emissions tax, out for consultation now.
Among those on the highway was rural advocate Floss, a former farmer, who wanted to show her support for Mid Canterbury's rural community and farmers in general.
She saw firsthand some of the issues farmers were dealing with in Mid Canterbury and was keen to help.
''I want to support them, they are the backbone of our country,'' she said.
She, along with the other protesters, were waving Voices for Freedom placards with saying such as SNA equals land grab, toot for farmers, toot for freedom, local assets local control, and food crisis where does your food come from?
''Everything is connected,'' Floss said.
''We always knew times were going to get tough … it's getting unworkable.''
Floss said she travelled among those working within the district's rural community and many were finding it hard.
One of her concerns was how big the significant natural areas (SNA) was and its affect on farmers.
''It's a shocker. A lot of land taken, no compensation, that's not OK.''
Groundswell NZ are hopeful government will do a U-turn on their emissions tax and the nationwide protest took place around around the country.
Numbers were well down on past protest action but a few Mid Canterbury protesters gathered north of the town before heading in convoy to join others from around Canterbury gathering in Christchurch.
In Christchurch, the New Zealand Herald reported about 100 protesters stood on the corner of Lincoln Road and Moorhouse Avenue at Hagley Park, waving placards and receiving toots from passing utes and trucks.
A line of about five tractors and numerous vans and utes blocked a one-way section of Lincoln Road.
And further south, a convoy of about 40 tractors and up to 100 utes drove on a loop of Dunedin's one-way system for the demonstration, causing some delays for motorists. It appeared to be the biggest showing of protesters throughout the country.
Groundswell NZ founding members Bryce McKenzie and Laurie Paterson said government's emissions tax will cut food production by up to 20% in some sectors ''ripping the heart of out of our rural communities but barely touch net global emissions.''
''This is our chance to show the Government that the public backs our farmers and rejects this punitive, counterproductive, and unworkable tax.''
Consultation runs until November 18, with a decision due in December.