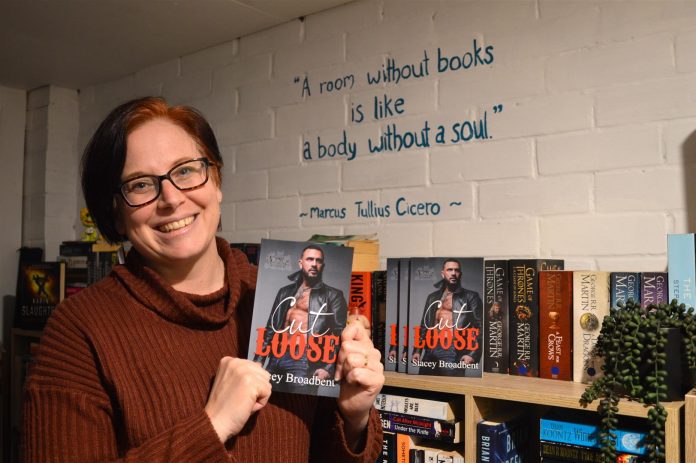 Ashburton author Stacey Broadbent launched her latest book, Cut Loose, with a meet and greet book signing at the Ashburton Public Library in July.
    The thrilling motorcycle club romance is part of a new series that Stacey has been working on, and tells the story of Jericho Lawson, the vice-president of Hellhounds motorcycle club, and Sam Traynor, a woman on the run from an abusive marriage.
    Sam and Jericho's lives will collide in this epic tale of growth, redemption, and romance.
    ''Cut Loose started off as a piece for a charity anthology called Hellhounds,'' Stacey said.
    ''The idea was to write something based around that word (Hellhounds). Many wrote about dogs, but I instantly thought of a motorcycle club. I knew the story wasn't finished and needed more, and so Cut Loose was born.''
    The new series is titled Hellhounds MC, and each book will be based around a different member of the motorcycle club and their love interests.
Stacey says the books have ''a suspense element to them as well as a little humour and spice'' and are a great choice for mature readers who enjoy ''redemption and romance''.
    The Hellhounds MC series is targeted for audiences over 18 years old who like a story packed with attitude, romance, and tension.
    A few dozen people showed up to Stacey's book launch at the library, where she read an excerpt from Cut Loose, and shared some information about herself and her experience in writing and self-publishing.
    She had signed copies of the paperback novel available for purchase, and hosted a questions and answers session for people who wanted to know more about Stacey, Cut Loose, or her writing journeys.
Stacey, who has published over 20 books, describes herself as an author of 'romance and thriller, to everything in between'.
    ''I'm multigenre, so I have something to suit most people. One of my favourites is a dystopian zombie thriller set here in Ashburton called Fever. My Super Mum series has also been popular here in New Zealand. They're lighthearted books about life as a mum.''
Stacey's books can be purchased locally in paperback format through Unique Boutique.
    They are also available for eBook and paperback purchase through Amazon, and are free for users of Kindle Unlimited.