Gwenda Ireland didn't want gifts for her 90th birthday.

So she asked family and friends if they would instead donate money for two organisations she has spent more than 30 years volunteering with – Friends of Ashburton Hospital and Ashburton Cancer Society Support Group.

She was overwhelmed by the response, and this month handed over a surprise $211 donation to the Friends group at their end of year gathering.

Gwenda has been a volunteer with both groups for 34 years, and counting.

She started at both in February 1988 after they were suggested by a friend.

"I wanted something to do, and I'm just so grateful," she said, of the opportunity.

"In those days (with Friends) we just walked round and talked to the patients – we didn't do morning tea for a few years – and that was really good. I enjoyed that, we were able to really talk to the patients."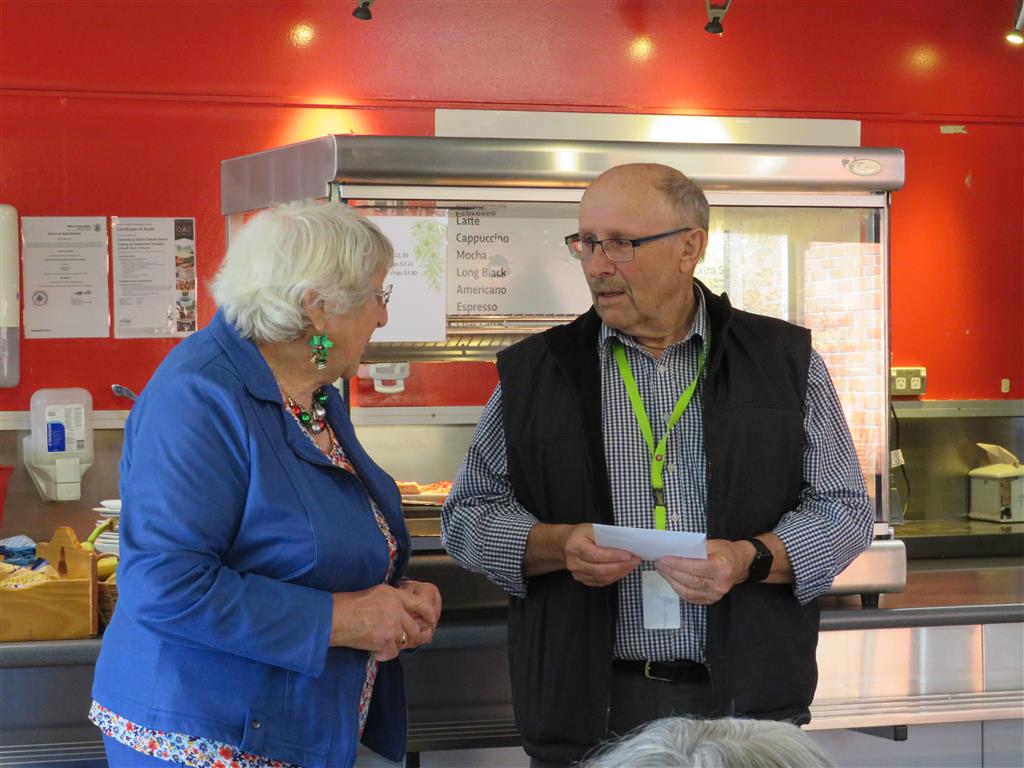 ''We'd try and help brighten up their day, some people don't get any visitors,'' she said.

Gwenda, born October 19, 1932, had around 90 guests attend her 90th birthday at the Ashburton's Senior Centre rooms, who collectively contributed more than $400.

She has a big family, with five children – three who still live in Ashburton, 14 grandchildren and 16 great grandchildren, with two more due next year.
Gwenda stepped back from doing weekly volunteer work on the wards last year but is still an avid knitter of the maternity ward woollens.

She had planned to continue visiting patients until she turned 90, but knew it was time to stop when walking became too much.

Surprisingly she said it had been easier than she thought to fill the void each week.

There have been a few coffee and lunch dates with husband, Peter and friends, as well as helping out at St Andrew's Church where needed, she said.

"I was so pleased I was able to stop and not mourn for it," she said, although she does miss it from time to time and enjoys still being able to help out by knitting.

"I just want to help them and that is why I had the donations for them, cos I know they need the money."

Gwenda was born and bred in Christchurch and was a dressmaker by trade working at Miss Sparkes on Armagh Street from 1948. They did bridal, tailoring, embroidery and dressmaking work.

Gwenda met Peter through their respective involvement with pipe bands; she was a drummer with City of Christchurch Ladies Pipe Band; he a piper with Methven Pipe Band.

They married in 1956 and moved to Ashburton in 1958.

Four of Gwenda's' friends, who she worked with at Miss Sparkes, were at her 90th birthday over Labour Weekend, as well as three from the city pipe band.

Gwenda said volunteering with Friends, which she did every Wednesday, involves serving morning tea and talking to patients, however long they needed; volunteers take direction from them.

After the Canterbury earthquakes Ashburton Hospital was inundated with patients from the city.

"Patients were down here for about six weeks, and we got to know them," Gwenda said.

She still remembers many of those patients and the shared banter.

Gwenda spent many of the years working alongside fellow volunteer Daphne Early.

"We had a lot of fun together," she said.

"We just worked well together, it was really enjoyable."

"Daphne and I, we had a lot of fun with a lot of patients, it was just something so nice, something different. Nearly every week we went up there we would know somebody."

Changes over the years have included Friends running the morning tea trolley and the addition of Tuarangi Home to the Friends roster, which saw a need for more volunteers.

They have helped make cushions for Ward 2, catheter bag carriers, maternity ward Christmas cards and booties, then later knitted singlets and rugs throughout the year.

They also run a library service for patients.

Gwenda, who was Friends secretary for around 11 years, now likes to sit in front of the television when she knits for the group.

Over the years she has also roped Peter into helping out.

"We started making these packs of toiletries and my husband and I would buy little bottles and fill them, put shampoo in them, and at Christmas time we would pack those up (for patients) and also give patients a marshmallow Father Christmas."

Patients also got an easter egg at Easter.

Covid has put a stop to those little gifts of late, but Gwenda was hopeful they would return soon to help brighten up patients' day.

Gwenda, along with Lyn Leadley and Jackie Rapley, also made an Anzac Day leaf and poppy wreath for the hospital chapel around 10 years ago which is still used today.

"It's just a lovely group, and they're just lovely ladies," she said of members.