For 60 years a stained glass window in Our Lady of the Snows Catholic Church in Methven has been the view the priest saw during Mass, and the congregation saw as they entered and departed the church.
Up until recently the design has been painted on but over time the colours faded until there was no colour left at all in 2000.
Parishioner and generous community supporter Viv Barrett wanted to see the window back to it's former glory in his lifetime.
Not one to sit back and hope someone else would do something Viv decided hewould be the one to make it happen.
He becamethe project coordinator on replacing the window with a leadlight version and paid for the new window.
The new window is the same design with a few additions.
The original window which depicts the Holy Family, as the original name of the church, had a red boarder.
Throwin' Shapes Glass glass artist Tash Sim, of Ashburton, ''said there wouldn't have been enough red glass in the New Zealand to do it completely in red.''
So to ensure they had enough glass she changed the red to a multi-colour – rainbow design.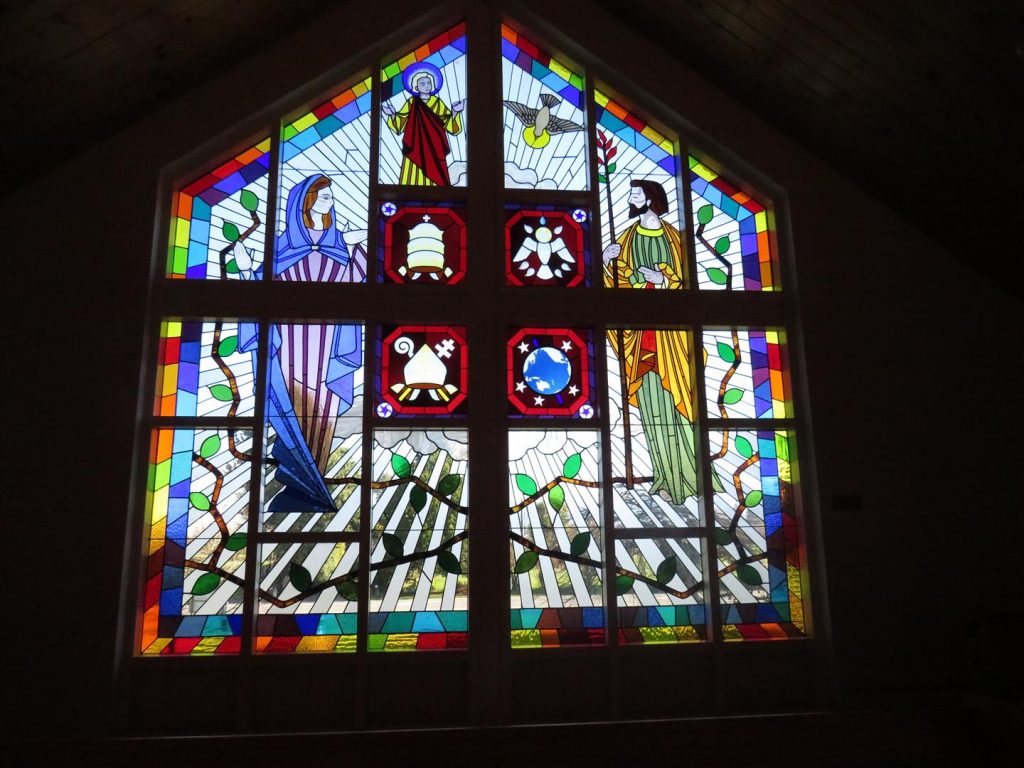 The new window is made of leadlight and Viv said ''I'm absolutely thrilled with how well the window has come up and it will last for a couple of hundred years. ''Tash did a great job on it.''
Tash's reaction on completing the window was ''it's pretty fricking amazing, I cried when it was completed.'' Twenty five years ago Tash started work at Armstrong Glass in Ashburton, ''within my first week of being there I knew glass was my thing.
I have repaired other church windows but not made one.''
To date itis Tash largest piece of work. Normally windows are measured up from the outside but in this case Tash measured it from the inside.
The 20 panes of the window were constructed off site and with the help of an Ashburton glazing firm Tash spent two days installing the window.
The window went in ''with only a little bit having to be shaved off a window sill to get it in,'' Viv said.
The window took 501 hours to construct and is made up of 1600 pieces of glass. These pieces are held in by a frame of lead. There is 90kg of lead in the window.
One of the four centre pieces includes a map of the world, ''such is the detail in the window that on the map of the world you will find New Zealand,'' Viv said.
Given the beauty of the window Viv would like ''to see it lit up at night so those going past can see it."