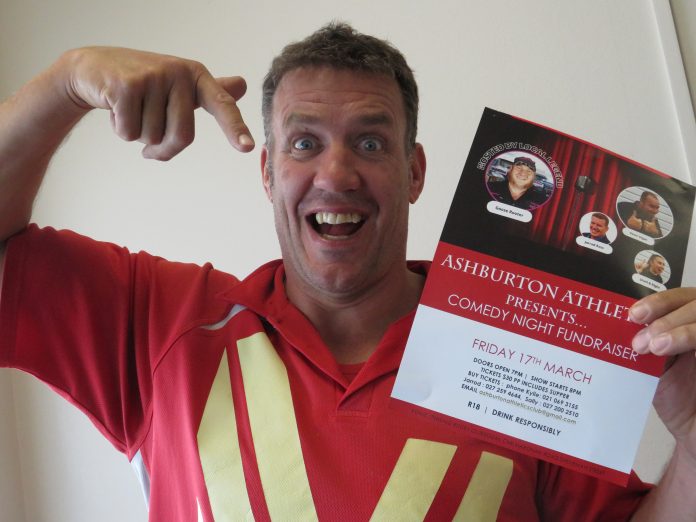 Shell B Right has been lured back on to the comedy stage for an R18 comedy night fundraiser for Ashburton Athletics Club.
The club is looking to replace some of their ageing 40 – 50 year old sports gear.
Shell B Right, aka Shelley Smith, will appear alongside comedic personalities Peter Vegas (aka Peter Livingstone), Gooserooter (Robbie Shefford) and Jarrod Ross (Jarrod Ross).
The event, at the Tinwald Rugby Clubrooms on Friday, March 17, will be hosted by Gooserooter with live music by local duo AH35.
Athletics club captain Kylie Edmond said the comedy crew were highly entertaining and an evening worth attending.
She had seen the four perform at a past event and was impressed.
The money raised would help the club replace ageing equipment.
''It just needs a bit of fresh air breathed into it. New javelins, new shot putt, … new starting blocks, just general bits and bobs that have seen better days,'' she said.
She said the club javelins would definitely be from the 1970s-era.
The club has between 70 to 80 children on its rosters, with at least 25 to 30 regularly competing competitively in major events. ''We're actually being really well (represented) this season,'' she said. ''We have got 22 kids entered in the Canterbury champs next weekend on the 11th and 12th at Nga ¯ Puna Wai.
''We've had some outstanding results at Colgate this year with all our kids.
Tickets for the strictly R18 event cost $30 and include supper. Doors open from 7pm. Show starts at 8pm.
Tickets can be bought by contacting Kylie on 021 069 3155 or by emailing [email protected]