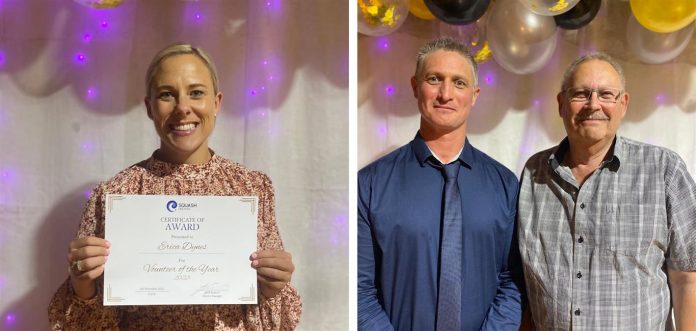 Squash players and officials from across Mid Canterbury have made an impact at the annual Squash Midlands awards in Timaru.
Eric Dynes of Methven Squash won volunteer of the year, Bryan Ford of Rakaia Club and Chris Buckland outstanding contribution, and Ashburton Collegiate Club initiative of the year for their Bubbles and Bash event.
Nicholas McKain of Celtic Squash took runner up most improved male master and Laura Gundry of Methven Squash got runner up most improved senior female.
Dynes, who will now be considered for the national awards being held in Tauranga next month, beat out fellow finalists James Morritt of Timaru Squash Club and Andrea Naylor of Oamaru Squash & Badminton Club to win the volunteer of the year category.
Judges described Dynes as the lifeblood of her club.
''She has the biggest smile and welcomes everyone that comes through the door. She implemented her club's successful junior programme (the first in many years) getting both kids and parents involved.
''She was the force behind the Methven D Grade Ladies team who attended superchamps (the first Methven team to do so in 28 years).
''She applied for grants on behalf of her club receiving over $10k to go towards painting courts and club refurbishment. She is the Methven Club captain so is responsible for the successful Methven Open. She is hugely driven and task focused, a friend to everyone and a pleasure to be around.''
Vicki Rae of Squash Midlands said volunteer of the year was ''such a hard category to judge with so many people across all of our clubs doing wonderful things''.
''This year's finalists have all made hugely significant contributions in time and expertise to their clubs so congratulations on being a finalist.''
She said it was wonderful to be able to recognise Buckland for his ongoing support in the district, particularly in the refereeing arena.
''Bucky makes himself available to all of our clubs running referees evenings and attending club and district tournaments to referee the later rounds on request.
''He has mentored and continues to mentor our referees coming through. Bucky first qualified as a National Referee in 1982, a qualification he continues to hold. He has refereed at the Commonwealth Games in India, World Men's and teams event, the Pacific Games and several times in Australia.''
Ford, who qualified as a level two district referee, was working on his level three national referee qualification. ''Bryan shows a huge amount of potential in this area.
"It takes many hours to qualify as a district/national referee and he works hard to be his best. He is often seen offering to ref the more contentious matches making him an organisers dream.''
Rae said Ashburton Collegiate's Bubbles and Bash initiative brought in new members for the club and gave a chance for ladies to be introduced to squash and have a go in a social environment.