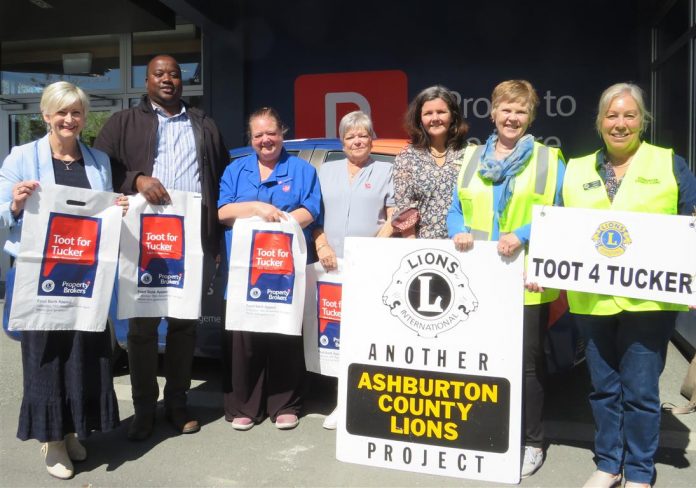 A higher cost of living and more people in need has organisers of this year's Toot for Tucker appeal hoping for an extra boost in supplies for the community foodbank coffers.
The annual food drive, tomorrow night from 5pm, is a way to restock community foodbanks with non-perishable food and grocery goods to support individuals and families.
Julie McKimmie of County Lions said there were a lot of families in need in the community at the moment and Toot for Tucker was welcomed by Presbyterian Support, Salvation Army and St Vincent de Paul who were helping them.
The food drive saw their much-needed foodbanks replenished and more than 400 boxes of grocery items were collected last year.
''They look forward to this from year to year because they know it's coming up,'' McKimmie said. ''It's a really important thing to keep going.''
County Lion and Ashburton District councillor Lynette Lovett said the three organisations worked together and could offer wrap around services.
''When they have a case they all work together and it doesn't stop there, they do all the social services if the families need it. They have programmes in behind this now, which is really good,'' she said.
Grocery items can include anything non-perishable, but donations also need to be current (not past their expiry dates) and unopened.
In addition to food, things like women's sanitary products, pet food, toiletries, and other household items are also welcomed.
Karen McRae, of sponsor Property Brokers Ashburton, said they are grateful for whatever can be donated. There had been plenty of variety in past years, including some nice treats for Christmas.
She said reusable Toot for Tucker branded bags, delivered to letterboxes, can be put out the gate for collection from 5pm on Monday.
People don't have to wait until they hear the vehicle horns tooting.
''The tooting is only for a short time and for a good cause,'' Lovett said.
Volunteers drive around tooting to let people or households know they are coming and collect the bags of food. Donated groceries will then be sorted and distributed by volunteers for Presbyterian Support, Salvation Army and St Vincent de Paul.
All volunteers will have identification tags and drivers will have a route map, McKimmie said.
''We do have lots of people that come and help. We are just really grateful for all the help we can get.''
Anyone interested in volunteering as a collector, driver or sorter is welcome and can register at the Mid Canterbury Vintage Machinery Club rooms at the Ashburton Showground on Monday, November 20 from 5.20pm. Entrance is from Seafield Rd, opposite the cemetery.