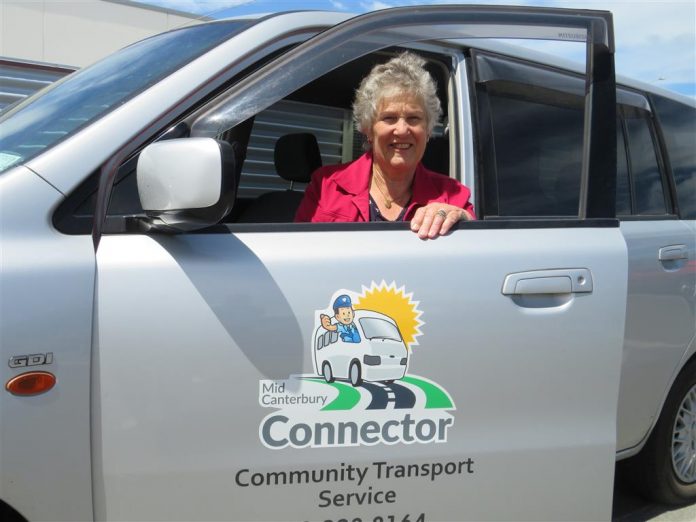 Volunteer drivers are needed for the district's community transport service keeping Mid Cantabrians like Vivienne Lamb and Binita Khanal mobile and connected.

Mid Canterbury has no public transport service and the Mid Canterbury Connector was set up to help residents district-wide travel to Ashburton for medical / dental appointments, to visit friends and family, or go shopping.

Fares are reasonable and go towards the operational costs of the vehicle.

Vivienne and Binita, both of Methven, are users of the service; Vivienne since it started two years ago.

The Methven retiree does not hold a drivers licence and used to rely on her husband, friends and family to take her to Ashburton for appointments, shopping or catchups.

Now she books the service when she needs it and cruises into Ashburton.

It's a door-to-door service run by the Mid Canterbury Community Vehicle Trust, which contracts Safer Mid Canterbury to take the bookings.
Vivienne said she uses the service around twice a month.

In Ashburton she shops, visits friends or lunches with her sister who lives in town.

''It's good, I love it,'' she said.

''It's just my independence, that I'm independent again.''

For Binita it allowed her to get into Ashburton to attend classes to sit her driver's licence.

She is now on a learners licence and is ready to sit her restricted licence next month.

The service, which used to be on set days in different areas, runs Monday to Friday.

Now people from any area can book when they need through Safer Mid Canterbury's Ani Koperu, via 03 928 8164.

She also organises the volunteer drivers.

Ashburton District Council deputy mayor Liz McMillan, is trust chair, and said demand for the service, once heavily impacted by covid, was starting to grow which had created the need for more volunteer drivers.

''It was set up to combat social isolation in the more rural/remote parts of the district, particularly in older adults who no longer drive or have no access to transport (through family etc).''

She said having community transport available allowed people to continue to access services they needed or to get out and about and feel a part of the community.

''The relationship between the passenger and their regular volunteer driver is also really important, often becoming a friendship. That driver may be the only person that older person sees all week,'' she said.

If anyone would like to have a chat about becoming a volunteer email [email protected] or call on 027 586 6556.