''Our schools and kindergartens are understaffed, and teachers and pupils are over stretched,'' Mid Canterbury primary school teacher Mel Oakley says.

''Our industrial action today is a last resort.''

She was one of around 100 Mid Canterbury-wide educators – and supporters – who stood together on Thursday in Ashburton as part of nationwide strike action.

They were calling for better teaching support for tamariki, more staff to support learning, and more pay across the board.

They gathered at the Ashburton Domain and marched in unity along West Street (State Highway One) then stood along the road to draw attention to their plight.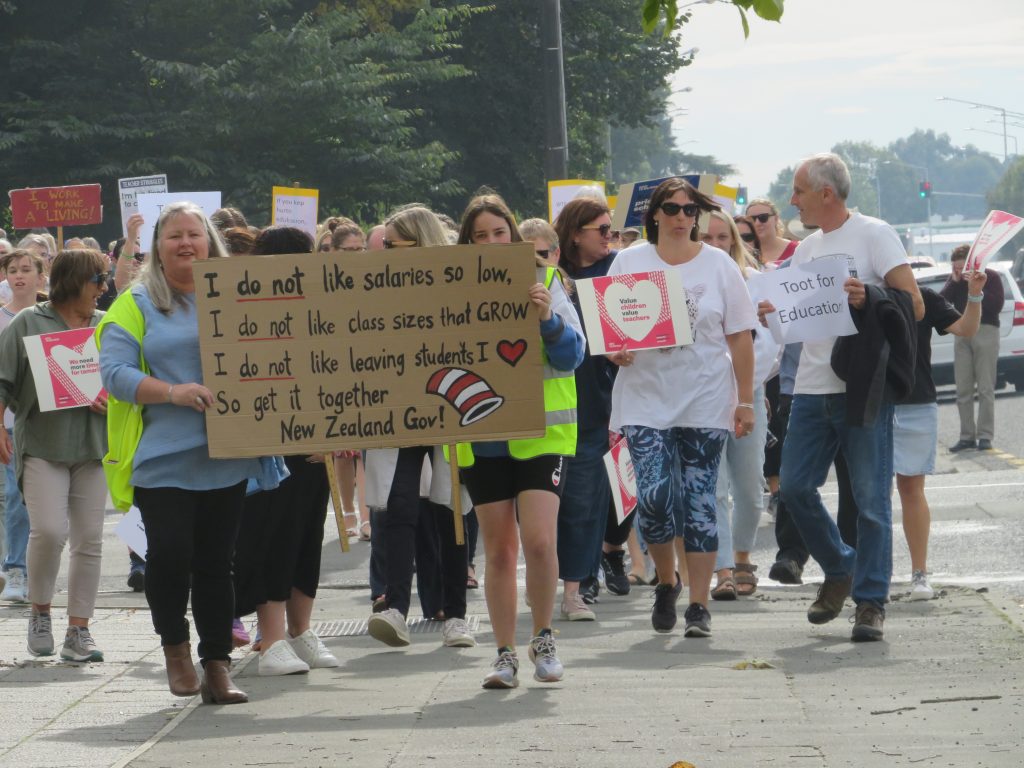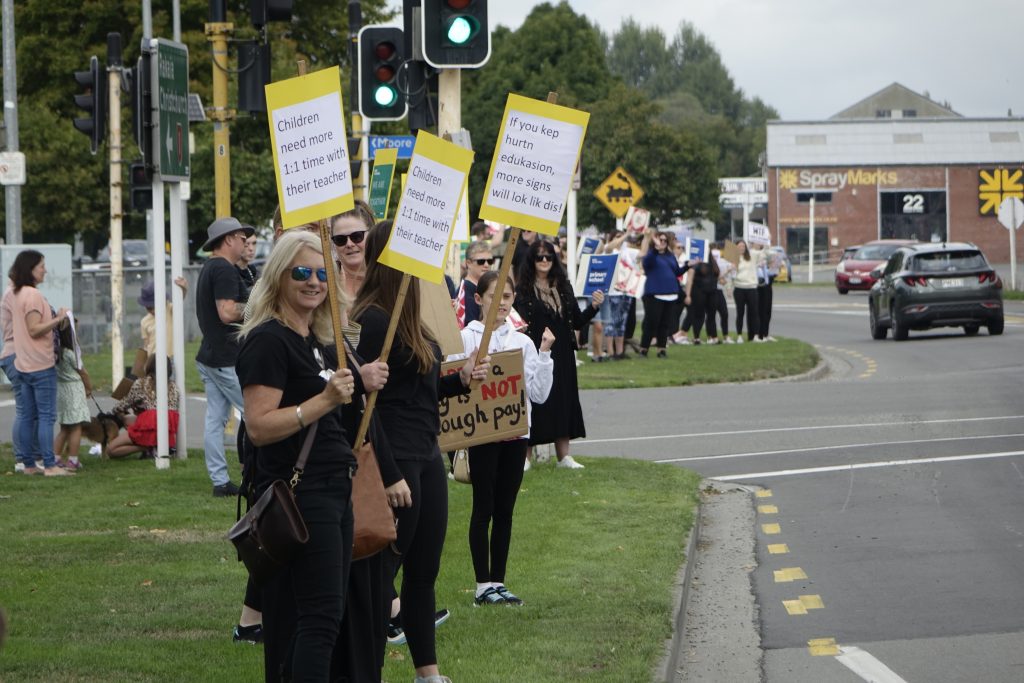 There was plenty of tooting support from passing motorists.

Representatives to speak on behalf of their unions included NZEI's Donna Watson, PPTA's Sharon Williams-Freeman and PPCB's Phil Wheeler.

Mel Oakley welcomed those gathered and said the motto of the day was 'we are doing something, we are not doing nothing'.
She said it was a time to be heard.

''We are standing here today to let people know we have got something to say,'' she said.

Members included educators from NZEI and PPTA unions, area school teachers, principals and kindergarten teachers, and supported by family, friends and school support staff.

''Joint unions have asked us to send the message to people that we want the best for our kids. Our schools and kindergartens are under staffed, and teachers and pupils are over stretched.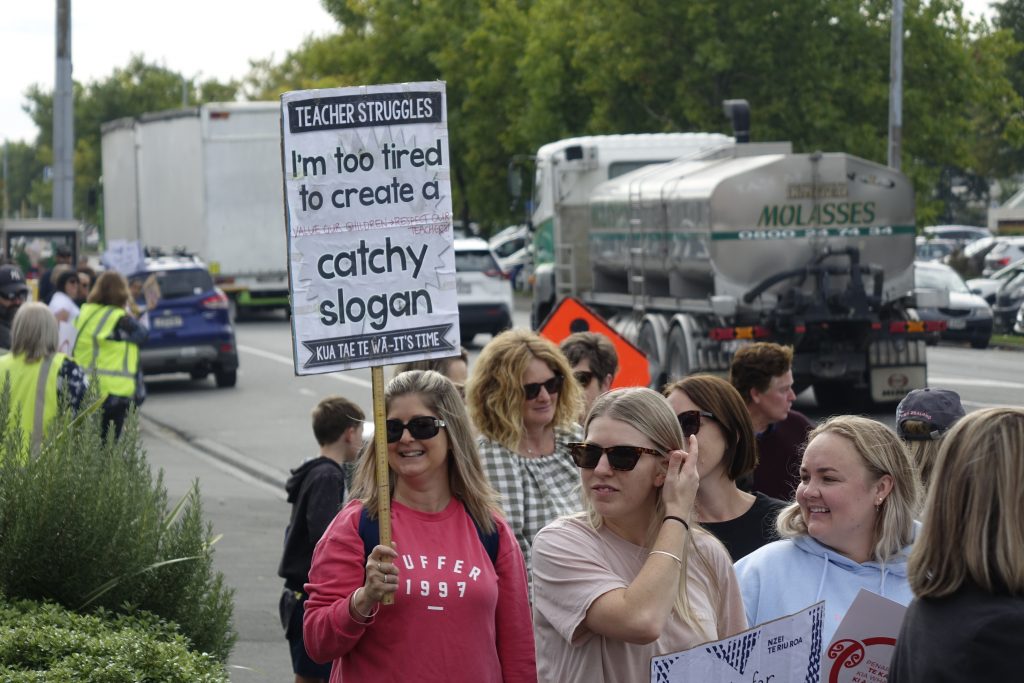 ''Our industrial action today is a last resort. I don't think many of us standing here today would rather not be in school. We would rather be there teaching and serving our community.

''However there are some things that we need to have said.

''We are striking to press the Government to improve our pay and conditions. We are striking to show them we are serious about change, cos our working conditions are our children's learning conditions.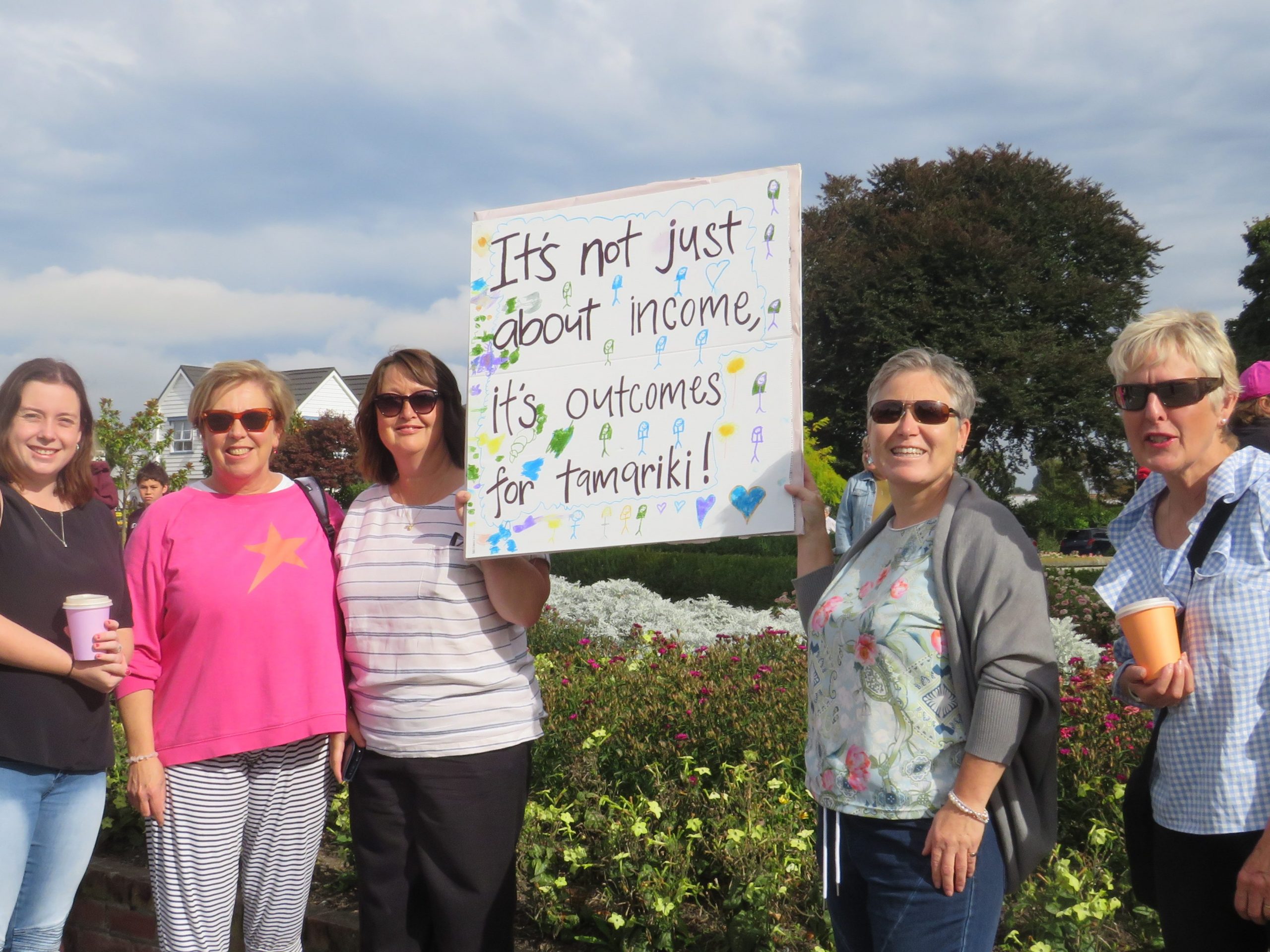 ''We need improved support for our tamariki, we need more staff to support our learning, and we need better recognition for the work that we all do, whether we are principals, whether we are teachers or whether we are kindergarten staff or support staff.

''And we need value and respect for what we do and that does mean more pay – just a bit not a lot. No more than anybody else.

''We are not pitting ourselves against beneficiaries, we are not pitting ourselves against police or nurses – we support them – however we need enough to live on as well.''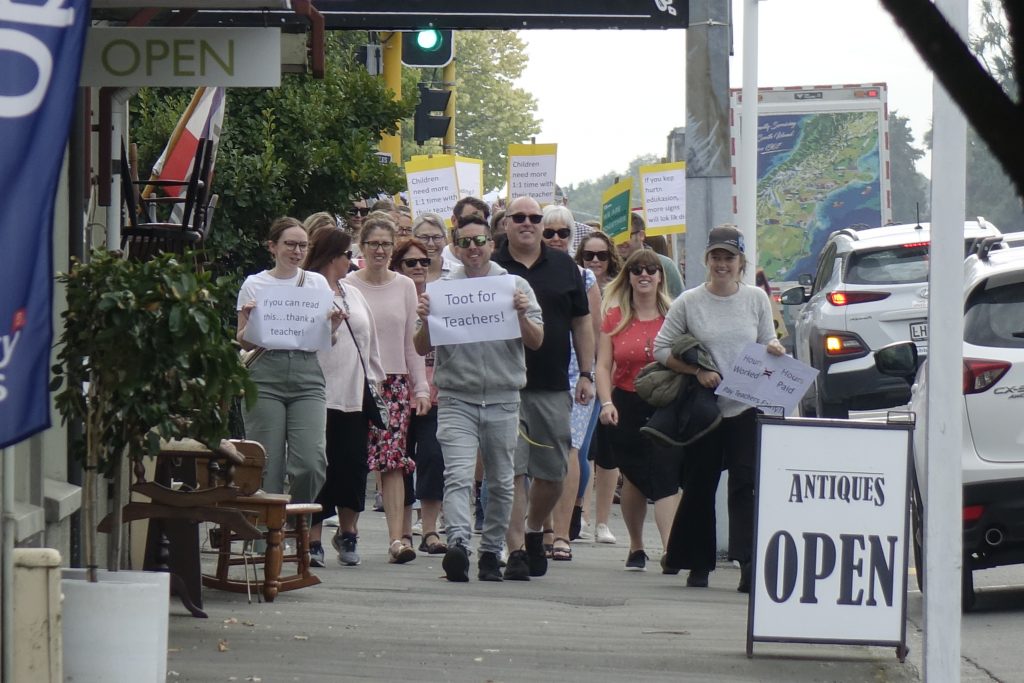 She said there was a feeling of being guilty about asking for more while different sectors of the community were also suffering, as well as North Island colleagues dealing with the after effects of Cyclone Gabrielle.

''But we should. We absolutely should, so today we are going to stand up.''

Netherby School principal Phil Wheeler, speaking on behalf of primary principals PPCB – a bespoke collective bargaining group set up last year specifically to negotiate with government for better conditions for principals , said principals were not being recognised for the many hats they need to wear from curriculum, health and safety, property, finance, strategic planning, human resourcing and community leadership.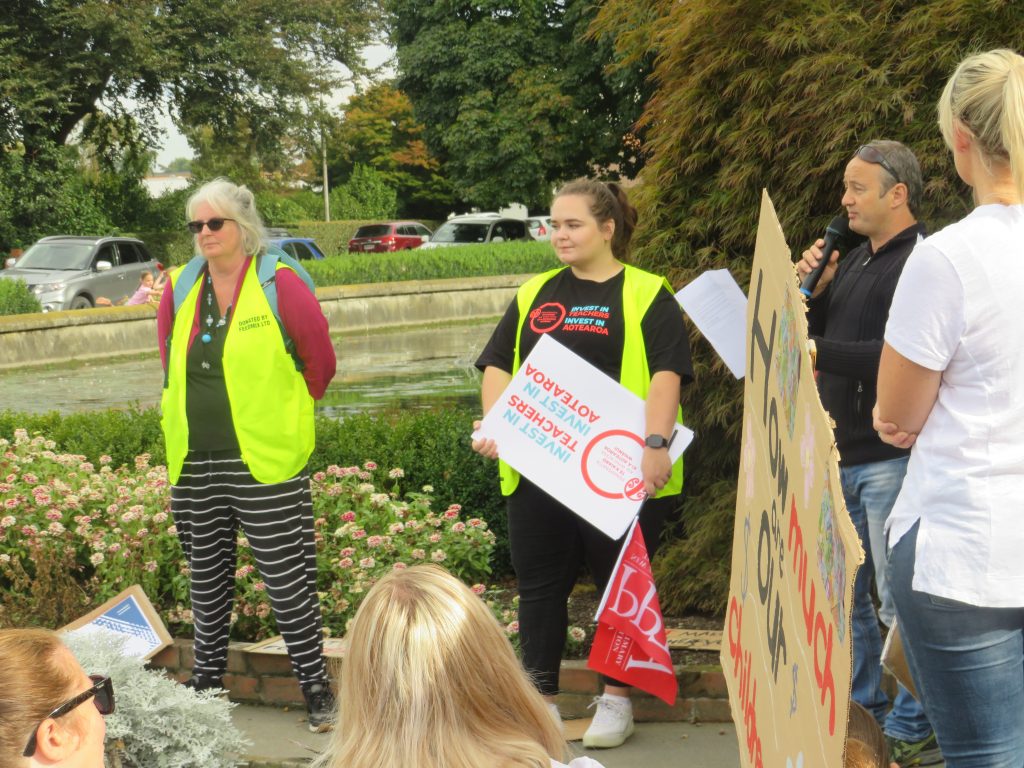 ''Here we are again, presenting the same argument of needing more to serve our tamariki in order to keep the teaching profession attractive to our current crop of teachers, tumuaki and our best college graduates.

''But we are faced with a seriously inadequate offer from the secretary of education leading us to stand united, to collectively strike and strive for better conditions.

''When a crisis happens, we step up, and lead schools through challenges from covid pandemics, media attacks to floods in Hawkes Bay and Auckland and much, much more.

''The pay increase needs to show that principalship is valued and an important role in the community and our country."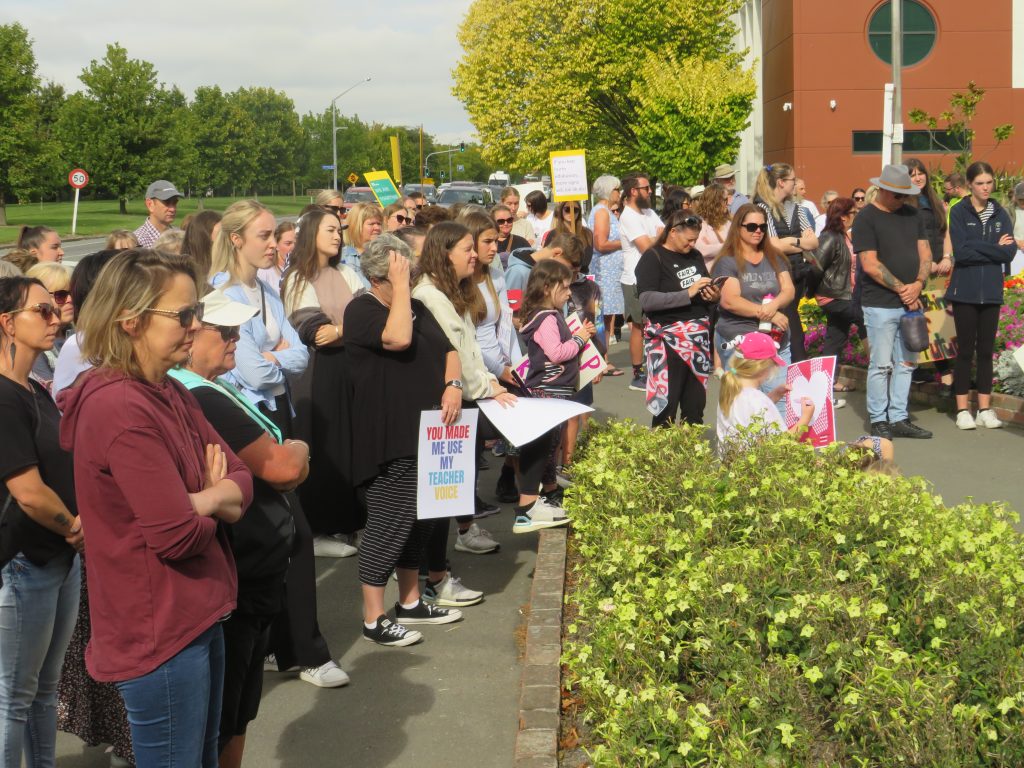 Mid Canterbury NZEI branch primary representative Donna Watson said the strike action was after nationwide members of the respective unions voted to take industrial action to protest against the lack of progress with collective agreement negotiations.

It was the first time kindergarten teachers joined their primary and secondary colleagues in strike action.

The historic occasion saw around 50,000 educators together across the country to show they are serious about needing change.