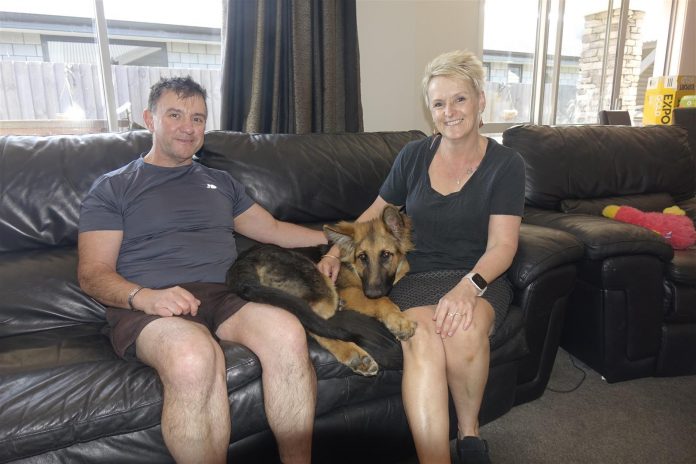 Ashburton Volunteer Fire Brigade members had a dogged determination to rescue a trapped patient at a recent callout.
It turned out there was not much they could do, as the German Shepherd puppy indicated he was not going to tolerate any types of cutting tools, due to the noise they make.
In the end the puppy, named Storm, was rescued by a vet and vet nurse who responded to the scene.
Storm's traumatic day began on Thursday last week, about 7.45am, when he stuck his head through a hole in the side of an outdoor metal coffee table, and could not get it out again.
Storm's owner of Nicholas Stringer, 18, and his mum Lisa used shampoo and Vaseline to try and slide his head out, and tried to get in touch with vet practices around town. When that failed, they phoned dad Scott at work.
''I came home from work, I said 'Ring the fire brigade, they might have something to cut him out with','' Scott said.
Two appliances, including the brigade's rescue tender with cutting equipment, and eight firefighters attended.
Noise from a hand-held power tool they were considering using to cut the metal table got a panicked response from Storm, ruling out the tool and suggesting other cutting equipment would not be appropriate.
''He wasn't too keen on that,'' Scott said.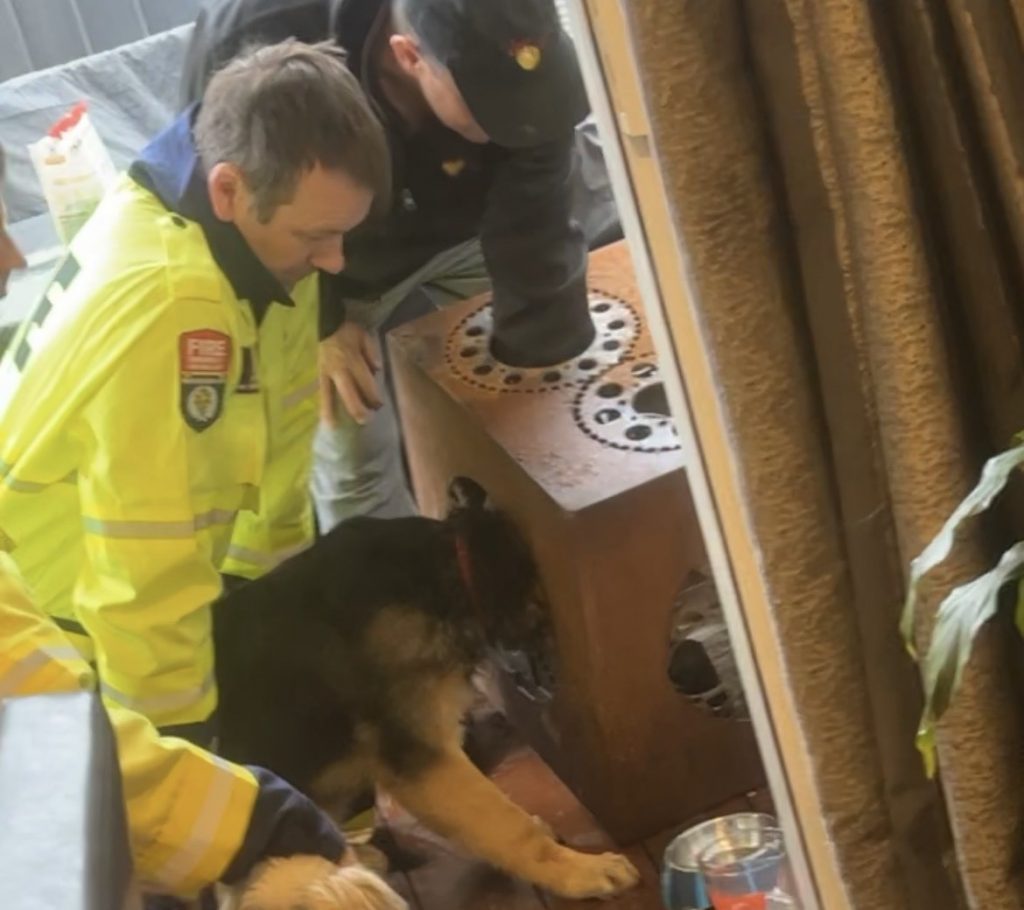 The family's other dog of Alfie the Shih Tzu Maltese cross was a curious onlooker.
By the time firefighters had been there about 25 minutes, one of the veterinarian practices, VetLife, had got back in touch, and vet Shannon Thomson-Laing and nurse Andrea Taylor turned up. They gave Storm a sedative, and gently prised his head out of the table.
Thomson-Laing said Storm's stress had prevented him from freeing himself.
''They pull back, like a child, and everything goes tense and they can't get their head back out,'' she said.
If he had not been rescued he could have damaged his neck ''quite badly'', she said.
Scott said altogether Storm would have been trapped for almost one hour.
''He was all good, just had a bit of swelling to his neck, just feeling sorry for himself. He was crying all day in his sleep, but by eight o'clock that night he was back to normal,'' he said.
Scott said at five-months-old, Storm was a typical puppy, ''into anything'', including the family vegetable patch, which he had ruined. ''That table is now put away until his head is too big to go through it,'' he said. He said it was lucky for Storm it happened early in the morning and not later when there may have been no-one home. Lisa had been the first to be alerted to the crisis, when she heard a banging sound. She said she had looked out to the patio to see it was the sound of Storm moving the table as he stood and tried to shake his head out of it. Nicholas said while it was an awful situation to see his dog in, he had been confident of a happy ending. ''I knew he would get out,'' he said. Brigade chief Alan Burgess said the ''timing factor'' of the vets arriving soon after firefighters worked well. ''We didn't have to do a whole lot, it was down to the people who have the skills,'' Burgess said.