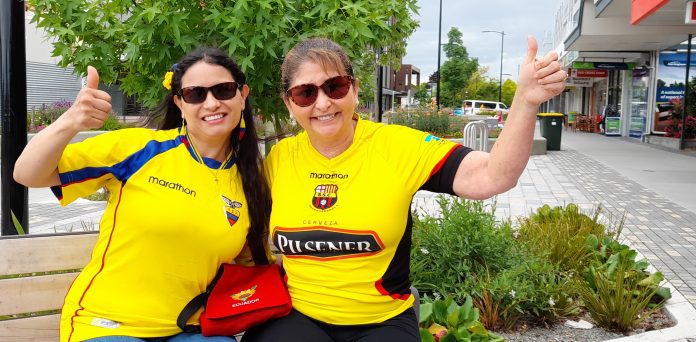 Ecuador football supporters Alexandra Trail and Jessica Falconi, both of Ashburton, have football fever after celebrating their native homeland's national team 2-0 win earlier this week against host nation Qatar in the opening game of the Fifa World Cup.
The ladies, who have lived in New Zealand for 20 years and eight years respectively, have taken inspiration from Samoa rugby league supporters and taken to the Ashburton streets to show support for their team – although they draw the line at getting Ecuador area code tattoos.
They have high hopes for their native team this year in the World Cup line up where 32 international teams are competing.
Ecuador are placed in Group Aup against Netherlands, Senegal and host nation Qatar.
The game, played at 5am on Monday, was the first time a host nation had lost an opening game, Jessica said, with a grin.
All thanks to their favourite player, and Ecuador captain, Enner Valencia, 33, a striker, who scored both goals during the match.
''He's amazing, (and) we have a great team,'' she said.
The Mid Cantabrians, both married to Kiwi blokes mostly into their rugby, were not the only ones up showing their support for the team in the early morning match with Alexandra's twin sister Estela, (and brother) in Rolleston also watching the 5am game.
There were also messages of support flying between New Zealand and family watching in Ecuador.
Mid Canterbury is home to many of the nations playing in the Fifa World Cup 2022 event, including Brazil, Argentina and Uruguay who are just some of the 32 teams playing in eight groups.
But while there is still a long road to go until semi finals in mid-December and the final on December 19, Alexandra and Jessica have faith their team will do well.