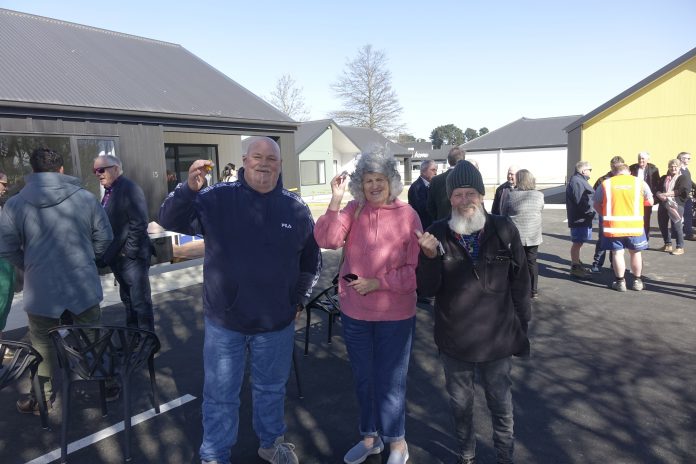 Residents of the colourful new $2.4 million Haven Housing at Mona Square were thrilled to be moving in as the 17-unit complex opened last week.
The $200-per-week one-bedroom units – which feature exterior panels of orange, blue, green and yellow – filled up quickly; now there is a waiting list.
The units are for people based in Mid Canterbury, aged over 60, of modest means.
Seventy-year-old Sally Hughes is one of the new residents. At the official opening, attended by about 100, she got up and took the microphone.
''I'm just so so grateful to receive one of these beautiful houses. I have low vision and I'm just so incredibly happy, it's cheaper than private rent and I'm looking forward to living in this dear, dear community,'' Sally said.
Sally told The Ashburton Courier her housing situation had been ''a life of private renting''. In the last month alone her weekly rent had increased by $25 per week to $335 a week.
Behind Haven Housing is the Ashburton Housing and Support Trust.
Another resident, 89-year-old Margaret Jackson, was proud to help cut the ribbon alongside trust chair Jackie Girvan and Ashburton mayor Neil Brown.
''I think they are absolutely wonderful,'' Margaret said of the units.
She had been in a council flat for the last 15 years in Friendship Lane.
''When they were talking about this, I thought it would be quite nice to have something new instead of something that needed work done to it,'' Margaret said.
Fellow resident 67-year-old Garry Kircher was just as happy.
''Brilliant,'' Garry said of what he thought of the project.
A previous rental property was a ''non-compliant'' house.
''I'm moving in this afternoon!'' he said.
Fellow resident Phil Visser, 64, said he was currently living in a converted shipping container in his sister's driveway in Ashburton.
''I have been trying to get a place for two-and-a-half years, and what I have been looking at has been absolutely shocking.''
Originally from Ashburton, Visser said he had been forced out of the workforce after a serious knee injury while working on the railways in Australia three years ago.
Chair Jackie Girvan said a lack of affordable rentals had been an ongoing concern in Ashburton for years.
''Everyone needs a place to call home that is dry, warm, affordable and secure,'' she told the gathering at the official opening.
The trust was formed in 2018. Its first property was nine villas at Cameron Courts Retirement Village.
It was in 2020 the Mona Square land became available. The district council enabled the trust to lease it for 50 years.
Girvan thanked the district council, alongside fellow trustees, the many individuals and organisations which had donated, and construction and building firms which had helped.
''When I look at this complex for older folk, I see how much our community has been involved and that this is a community asset that belongs to Ashburton.''