Des Syme has clocked up an impressive 65 years with the fire service.
The milestone was acknowledged last week with a luncheon attended by fire brass and service colleagues.
Des was a fresh-faced 15-year-old when he joined the Alford Forest Rural Fire Force. Today the 81-year-old is a life member of the Lauriston brigade.
He enjoys the camaraderie among those in the brigade and helping his community.
''I like helping people. I've always been that way.
''I dare say the others (in the brigade) think that way too, wanting to improve and make it safe all round.''
He said the brigade was like a second family.
He has fought fires alongside many well-known names in the community and with crews from Methven, Ashburton and Mt Somers.
''You get to know a lot of people and you know what their capabilities are.
''In the early days, volunteer firefighters relied on community knowledge on where there were water sources. But now there are markers everywhere and we know where the water is,'' he said.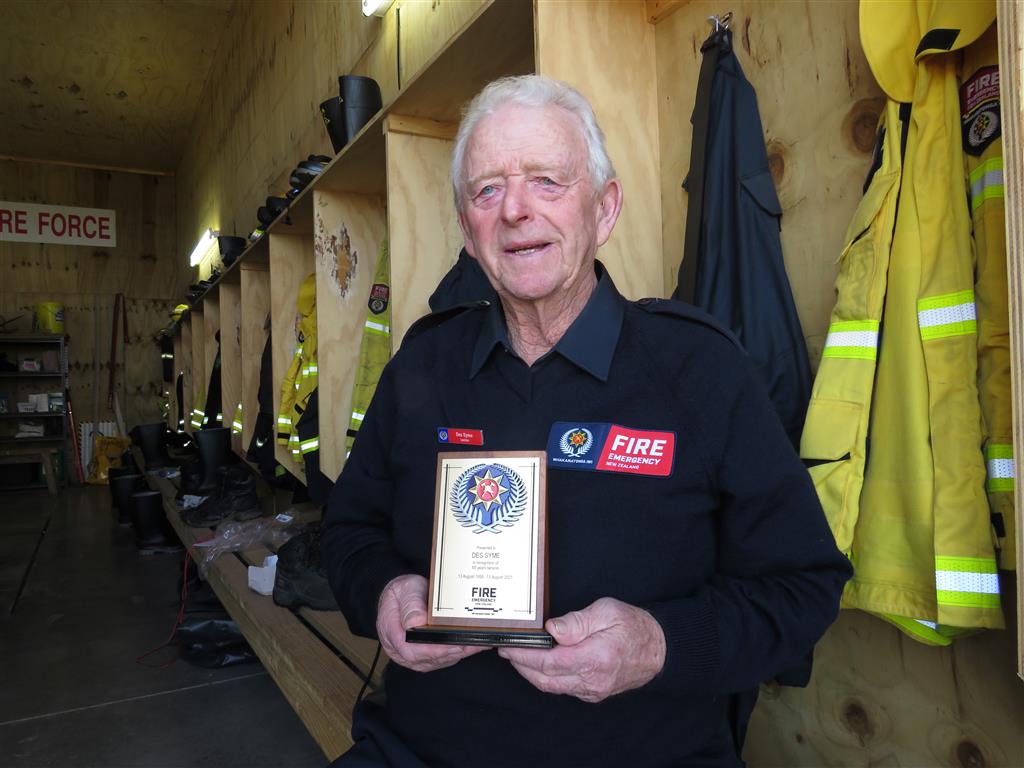 In 1958, Des had left school and was working for Bob Whiteman, driving a tractor.
It was at the time the Alford Forest Hall was being renovated and a lean-to was needed to house a fire unit pump and trailer.
''I was helping at the hall. I was working for Bob Whiteman – he was the chairman – and he said 'Right Des, you can help put up the shed for the pump'.
''So that's how officially I started with the fire brigade.
''It was just a lean-to on the Alford Forest shop … we put the trailer just in, and you could just come in hook (up the trailer) and off you go.
''That was our fire station.''
Since the mid-1990s, and following the sale of the family deer farm at Alford Forest, firefighting stalwart Des Syme has been part of the Lauriston service.
Des, and his late wife Kay, had three children. Their son, Nigel, is also in the Lauriston brigade.
Des, who lends a hand to Nigel with his contracting business, is not as active in the brigade as he used to be, but still attends callouts whenever he can.
He said fire brigades were more sophisticated today.
There were radios for communication and fire volunteers were alerted by an app on their phone. There were also more rules and regulations, with a strong emphasis on health and safety, and firies received medical training.
Des remembers fighting fires with the likes of Dallas Rountree and John Willis, but there were many others.
"Anybody that was working on the land was officially in the fire brigade type of thing, well that's how it was way back then.
''We certainly fought some fires, there was no two ways about that.''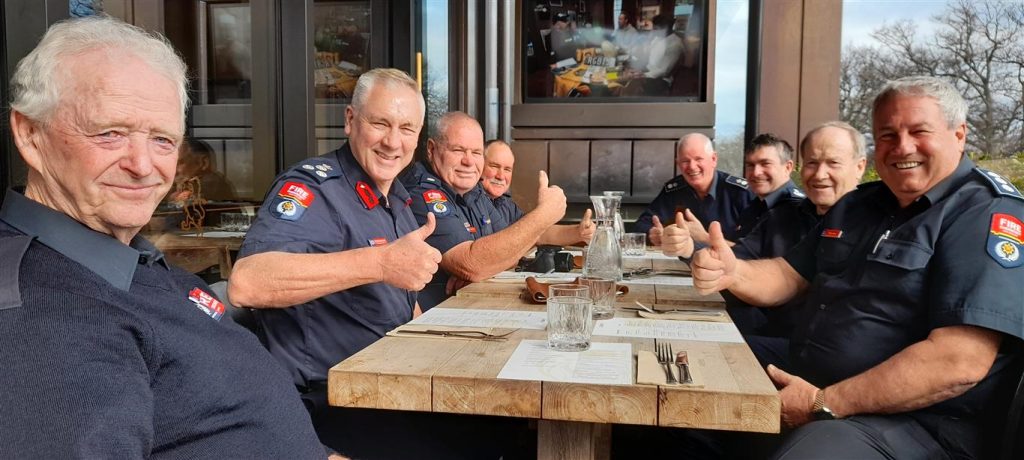 Des remembers twice running like hell to get out of the road of a raging fire in a nor' west wind speeding down the Ashburton river bed.
''You are looking for the safety factor all the time because you don't want anybody hurt … and you are not supposed to run when you are in the fire force.''
He had to dive in the water to get out of the way.
''We had nowhere to go…the flames can beat you, put it that way.''
The fire was only stopped by the Rangitata Diversion Race, he said.
''It couldn't go any further. The flames were going. We couldn't stop it, it was going.''
At the time firefighters were using a broom and sacks to ''knock the flames down and that's all we had.
"We had no water, cos you had to go find water.''
Music has always played a role in Des's life. It's his happy place.
He has been a drummer since the age of 12, and was a young member of The Foothills Dance Band.
Fellow band members have included the likes of his brother John, Jim Harmer, Jean Greenslade and Rex Cochrane.
On one occasion Des, John and Karen Lamb were heading to the Radiant Hall in Ashburton to perform when the trio were first on the scene of a vehicle accident involving his relative, Hugh.
It involved providing an improvised response to help Hugh breathe.
It had a favourable outcome, but the horrific scene stayed with Des his whole life; even now he dislikes attending motor vehicle accidents.
''If there is nobody else, I'd still go because we still have the training to do what we do,'' he said.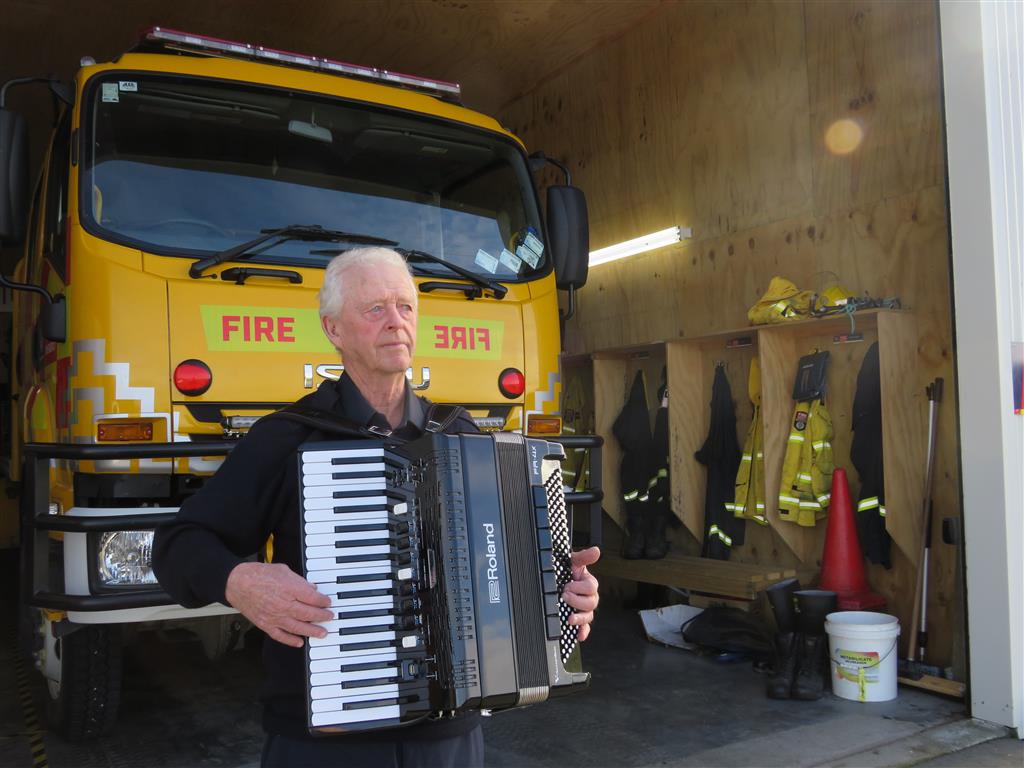 Des was also a drummer in the Methven Pipe Band, and can play the piano and piano accordion.
He is still playing the accordion today, and performs to residents in Mid Canterbury rest homes.
''I learnt the piano accordion when I was 12. My father played. You can either play the piano accordion or you can't. It's a gift in a way.
''You've got to be synchronising your brain. Some people have tried to play it and they can not.
''You play bass with your left, the melody with your right.''
Des said he felt honoured to be acknowledged for his service at the luncheon last week.
Among attendees were Te Ihu (Canterbury, West Coast and Nelson/Marlborough) region manager Paul Henderson, Lauriston chief fire officer Mark Shears, Mid South Canterbury district manager Rob Hands and Canterbury group manager Mike Johns.