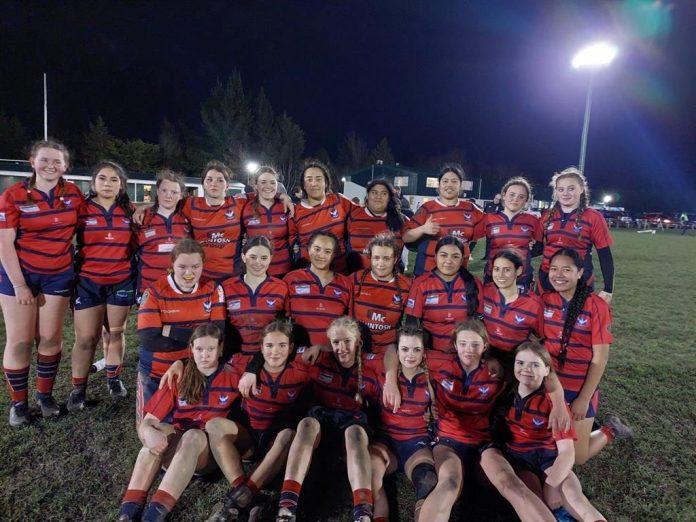 Joe's Garage AshHutt Under 15 beat Timaru Girls' High 27-21 last week and are playing in the final at Pleasant Point tonight.
They face defending champions Craighead at the Pleasant Point showgrounds. Kick off is at 4.30pm.
Under 15s team manager Tania Hill said the team was made up of girls from Ashburton and Mount Hutt College and were under the coaching direction of Stirling Clark and Jarrod Ross.
It is a new team this year with a lot of players that have not played before, she said.
She said AshHutt had beaten Craighead in the previous round, and around six AshHutt players had them in the competition final last year.
''We are so proud of them and how far they have come,'' she said, of her side.
''A couple of them hadn't even held a ball before and didn't even know how to through a pass.''
''They have come together as a team and are a tight family unit.''
Girl's rugby in Mid Canterbury is going from strength to strength with players across the ages succeeding at high levels.
The Joe's Garage First XV AshHutt girls side played a hard fought battle against St Taki (a combined St Kevin's College and Waitaki Girls' High School team) at Pleasant Point last week.
Unfortunately the result went the way of the St Taki side 37-32 after 10 minutes of over time and five minutes of golden point.
The AshHutt First XV side will now play for third and fourth against Timaru Girls High School at Southern Rugby Club in Hinds tonight and would love all the support they can get. Kick off is at 5pm.
Four of the First XV players were also named in the Hannan Shield Under 18 squad this month.
Angel Hauiti-Spooner, Edelma Kelsall, Siasini Satui (all Ashburton College) and Savannah Clark (Mount Hutt) will represent the district in the 24-women squad.