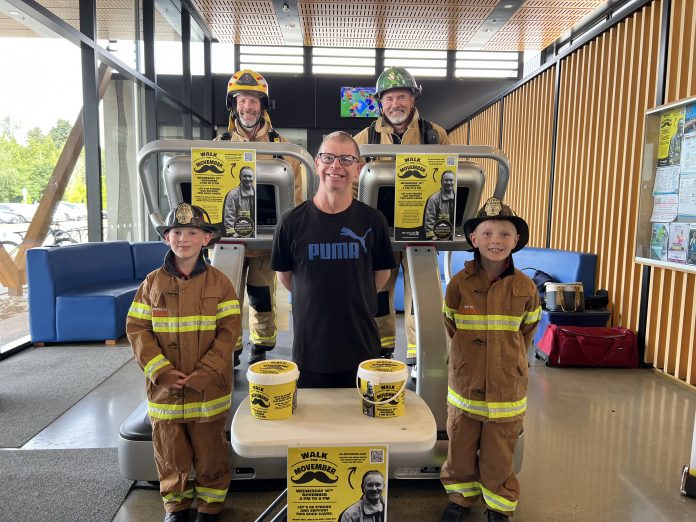 Rakaia School principal and volunteer firefighter Mark Ellis is tackling a big goal for a bloody good cause.
In support of Movember and men's mental health he has committed to walking 60km, some of which he is completing in full firefighter kit.
"I decided to do Movember because mental health and suicide prevention in New Zealand needs funding urgently,'' he said.
''Working in education and Fire and Emergency NZ, I have seen both issues.
"Everyone has a story and by raising awareness of mental health we let everyone know that it is normal to have challenges and uncertainty."
Traditionally men show their support for Movember by growing a moustache, but after a recent diagnosis of pre-diabetes, Mark decided to hit the pavement and take on a challenge that would benefit both his mental and physical wellbeing.
"Being physically fit certainly helps mental capacity and even the way you think about yourself.
"As a principal, I try to keep my pupils well with confidence in themselves and their achievements, and as adults we also need to have our achievements celebrated with a kind word and support.
"Kindness is a big thing we need to use more, and empathy needs to be taught and practised, rather than judgement."
Mark was at the EA Networks Centre last week completing a four-hour walkathon event in support of his fundraising efforts.
He had a second treadmill set up so that others could walk alongside him, and brought along his spare firefighting suit for walkers to get into, should they like to step it up a notch.
The firefighting suits and breathing apparatus weigh around 16kg.
EA Networks Centre manager Richard Wood said the recreation centre was pleased to be supporting Mark's walk for Movember.
By the end of the four hour walkathon, Mark estimates he would have walked 50km throughout the last few weeks.
He planned to tick of the last 10km with some smaller walks throughout the week and another walk around town in his
firefighting gear.
''For me it's just raising awareness,'' Mark said. ''It gets people talking.''
''I think mental health needs to lose some of its stigma in this country and we need to look after our mental health just as we look after our physical health,'' he said.
"It's not always an easy thing to do.''
However he recognised that even people leading active lifestyles could experience a poor or declining mental wellbeing, particularly those in high-stress industries such as emergency services.
''Mental health awareness within the fire service is a big thing as well, because we're dealing with a lot of stuff.
''It's just making people aware of that,'' Mark said, claiming we as a country need to be better at helping one another.
Mark set out with a goal of raising $500 but said, ''anything that I can get helps, it's all going to a great cause''.
Anyone interested in donating to his cause can do so by visiting nz.movember.com/mospace/14797862 or by clicking 'donate to a person or team' and then searching Mark Ellis on the Movember website.
-By Indi Roberts