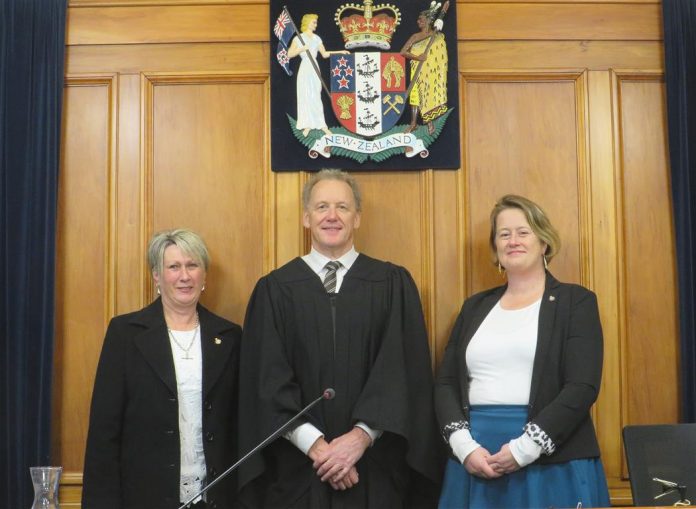 Martine Tait and Maree Smith have been sworn in with the Ashburton Justices of the Peace Association.
The pair were sworn in by Judge Campbell Savage in the Ashburton District Court this week.
Martine is a first-generation Kiwi who lives and works with her husband on a family dairy farm at Lowcliffe and Maree Smith lives in Rakaia, with husband Warren. They have two adult children.
Judge Savage offered his ''heartiest congratulations'' to the pair on their JP appointments.
''That you were considered for appointment in the first instance is testament to your community involvement, and your acceptance is crucial if you are willing to serve your community on an ongoing basis, so you have the thanks of the community that's expressed today through me,'' he said.
Ashburton JP Association president Max Cawte said Martine had a background in hospitality, tourism and immigration.
Martine enjoys meeting new people and connecting with members of the community in various ways.
She helps out with community groups, including the Lowcliffe-Coldstream Hall and volunteers at the Ashburton Art Gallery.
Martine is approachable and a good listener. She considers it important to be inclusive of all members of the community, and strives to bring fairness and equity to whatever she is involved in.
Maree works full time for Ruralco, as store manager in Rakaia, which she loves. She has worked there for 19 years and enjoys meeting all the people that come into the store.
She loves spending time with family and friends and relaxes by camping, fishing, walking and reading a good book. She volunteers on the committee of the Rakaia Beautification Community Association and looks after the Rakaia River Walkway – a great walk along the river with some great views.
She is also a volunteer for the Rakaia Salmon Fishing Competition.
Judge Savage said ''Justices of the Peace perform an invaluable role in administering posts and declarations in need of legitimacy, the sort of documentation people need to complete to go about their daily business, so it's of great assistance to the community to have Justices in the areas that I know that you come from.''
''The judicial aspect of the role too is also of great assistance to the smooth running of the district court, so I congratulate you on being selected for appointment, and thank you very much for accepting the appointment and what goes with it,'' he said.