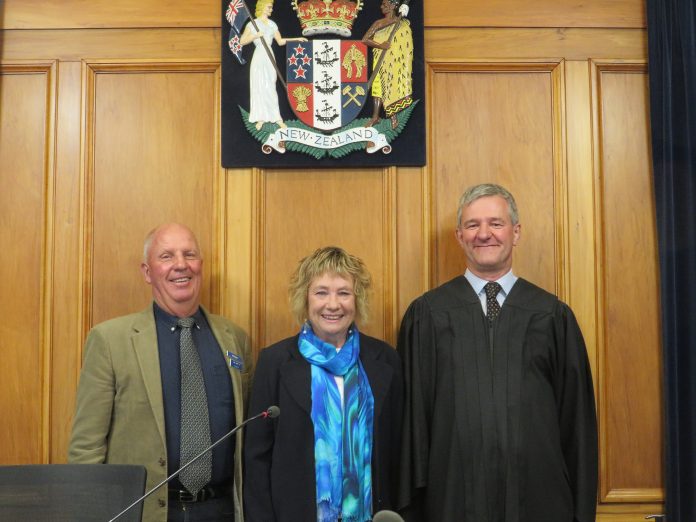 The skirl of the bagpipes heralded the arrival of Ashburton's latest Justice of the Peace last week.
Dr Jennie Coleman, supported by her partner Neil McDonald and extended family including the piper, was sworn by District Court judge Dominic Dravitzki at the Ashburton Courthouse on March 23.
Jennie and Neil have moved to Methven in retirement following professional careers in Queenstown.
Jennie has family in Methven district, and it significantly influenced her desire to return.
Ashburton Justice of the Peace Association president Max Cawte said academic pursuits and teaching characterise much of Jennie's working life. She did undergraduate studies in music at the University of Otago which prompted postgraduate specialisation in Ethnomusicology at the University of London.
''Returning to New Zealand, Jennie completed a doctoral degree at Otago and further applied her interdisciplinary skills to the research of this country's social, cultural, rural and religious histories.
''As a first-generation university student, driven by a passion for learning, Jennie determined to share and encourage that passion as she engaged with countless students across a diverse subject range and equally diverse age range: at the piano keyboard, in a secondary school classroom, in various university contexts, and in the customised role of learning coach.''
''Growing up on her greatgrandfather's farm at Ladbrooks (near Lincoln), Jennie's role models were parents and grandparents whose values reflected service to their rural community.
''In her own life, Jennie has expressed these values through service to religious, cultural, historical, educational and musical organisations, particularly in Dunedin and Queenstown.''
Jennie enjoys singing with the Mid Canterbury Choir and looks forward to extending her service to the community as a Justice of the Peace.