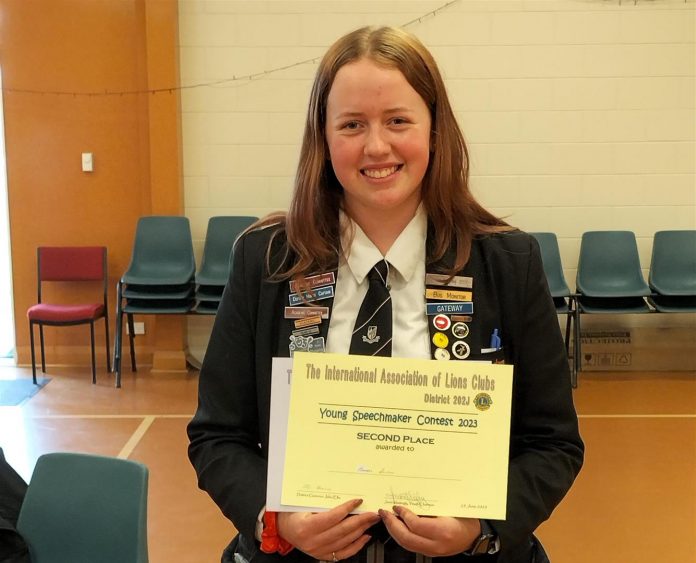 Amelia Swan entered her first speaking competition late last month and took out second place.
The Year 13 student from Mt Hutt College represented Ashburton County Lions at the Lions 202J District Young Speechmakers competition in Oamaru.
Amelia was selected after seeing a Facebook post by the County Lions and putting her hand up.
The speeches at the competition could be on any topic and Amelia chose to talk about misandry, misogyny and sexism.
A heavy topic, but Amelia said it was better to be a little political in those competitions.
''It was really good, some of the others did similar style speeches, so it wasn't just me going really heavy,'' she said.
The contestants then had to do an improv speech on New Zealand road signs.
For many of people the thought of public speaking can bring on a cold sweat, and the urge to bolt to the closest exit, but Amelia said she has always liked it.
''In primary school we had to do them, and I was good at it, to be able to do a speech you have to be able to talk and I like talking, it's something I can do.''
Amelia said people prepare for a speech differently, ''once I've written it up I tend to put it on cue cards and read it over.
''People should give it a go, at the very least for someone my age its great for Uni.
''There's no fail, even if you lose you've still competed and its cool to say you've done it, I don't see a down side,'' she said.
Ashburton County Lions member Janice Rickard said four members from their club went down to Oamaru to support Amelia.
''We were very pleased with her wonderful effort,'' she said.