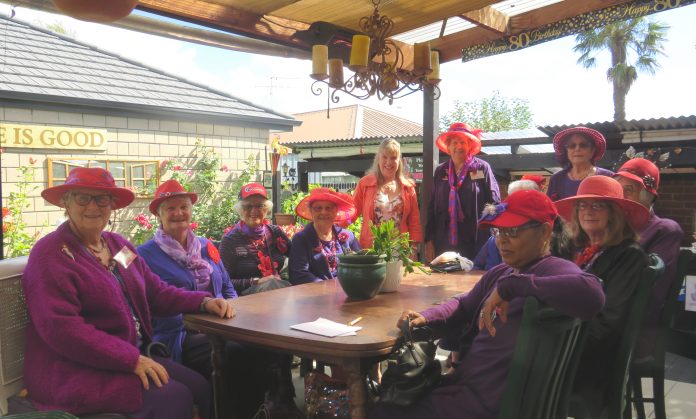 Plains Dames Red Hat Ladies got dressed to the nines for a tranquil picnic lunch recently in the picturesque grounds of Tranquility.
The Plains Dames, identifiable by their red hats and purple attire, have just celebrated 19 years in Ashburton, regularly getting out and about for camaraderie and fun.
Spokesperson Lyn, whose Red Hat name is 'Social Butterfly' (a fun personality name), said Red Hat was a group for women which started in America and was spurred by Jenny Joseph's poem Warning.
A poem about ageing in style – with mischievousness.
The benefits of the group include ''the friendship, the laughter, comradeship and fun'', she said.
The 30 Ashburton members have regular monthly meetings and do fun activities – wearing their red hats, or fascinator.
''When you are together and are recognised as a group, it's amazing the reactions we get from children, how lovely we are looking,'' she said.
The gathering, at Tranquility – owned by Karen Isherwood – is a garden setting and shop selling a range of products from art and clothing to jewellery and upcycled furniture on Victoria Street, in Ashburton.
Lyn said it was a chance to have a look around the grounds, catch up and enjoy a picnic together in a relaxed setting.
The group meet on the first Monday of each month and, with no committee, just a Queen who is the contact person, it's left up to members to take turns organising an outing or activity each month.
Members can choose to organise a set month at the beginning of the year. An email is sent out ahead of each month's meeting.
Next month they are meeting at Ruth Hall's Violinos with lunch provided through Age Concern.
They have also travelled to many events over the years, including the blossom festival in Alexandra, Lyn said.
''We have a lot of fun,'' she said.
Women can be a part of the Red Hat Ladies from the age of 50, but there are Lilac and Pink Ladies from the age of 40.
Anyone keen to join can contact Wirly Shirley on 3081812.