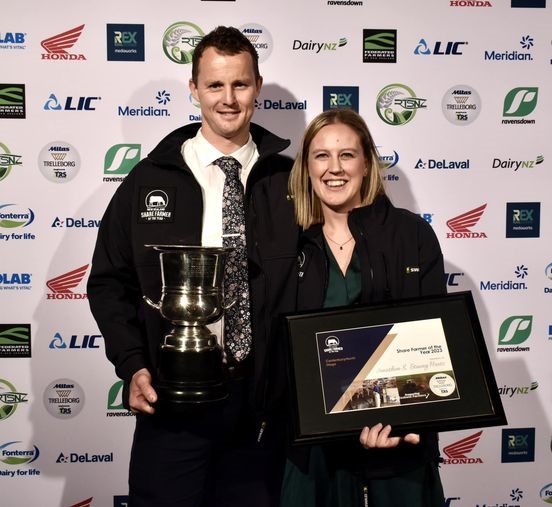 Jonathon and Stacey Hoets, the Share Farmers of the Year winners of the 2023 Canterbury/ North Otago Dairy Industry Award, are excited for the future of the dairy industry, with technology and science developments driving progress.
They were named title winners at the region's Share Farmer of the Year category at Wigram Airforce Museum recently in Christchurch.
As part of their win they will host a field day at 784 Surveyors Road, Hinds, on April 12, 2023 from 10am. Also presenting on the day will be the region's Dairy Manager of the Year, Jack Symes and Dairy Trainee of the Year, Brayden Johnston.
The Hoets, both 32, have entered the awards three times previously and say they have grown their network and upskilled on areas that were challenging through the experience.
Growing up on his parents' dairy farm in Papakaio, Jonathon entered the dairy industry as a farm assistant when he left school.
"I really enjoyed the lifestyle, working outdoors and with animals," Jonathon said.
"I love the challenge of producing a high quality product that's in high demand and training up new staff."
"We love that it's a career that our whole family can be part of," Stacey said.
"The kids enjoy heading out on farm occasionally and enjoy being around the cows and calves too."
The Hoets are 20% equity partners with John and Kelly Nicholls on a 178ha Hinds property, milking 760 cows. They won $10,500 in prizes plus two merit awards.
The couple are very proud they have become equity partners in the timeframe they set themselves.
"Eventually we would like to own a farm and along the way we are open to opportunities such as increasing our equity or diversifying into rental property ownership.
Their goals to progress in the industry and succeed motivate the couple in both the challenging and easy times.
"The drive to create something really good and open opportunities for our kids is strong," Jonathon said.
"I'm really motivated to perform in the top five percent.''
Intense weather events over the past five years including floods and lightning storms have been challenging however the couple say they were also good learning opportunities.
"We're proud we managed to push on and get through."
Other major winners were Jack Symes, named the 2023 Canterbury/North Otago Dairy Manager of the Year, and Brayden Johnston, the 2023 Canterbury/North Otago Dairy Trainee of the Year.
The New Zealand Dairy Industry Awards are supported by national sponsors DeLaval, Ecolab, Federated Farmers, Fonterra, Honda, LIC, Meridian, Ravensdown, and Trelleborg, along with industry partners DairyNZ, MediaWorks and Rural Training Solutions NZ.