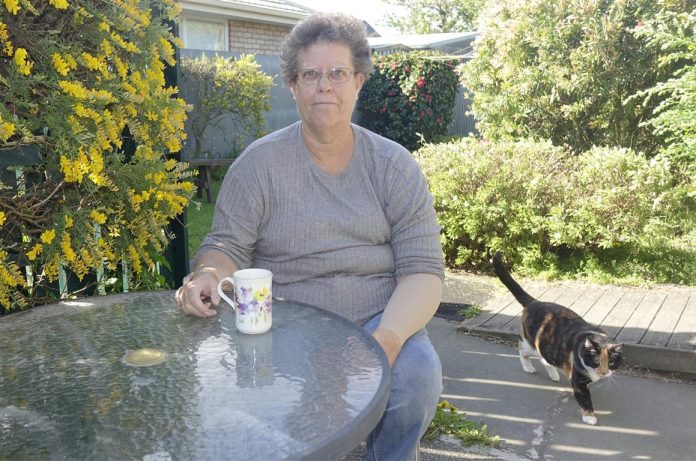 Ten years ago at the age of 47, Sonya McKerrow received the news no-one wants to hear – ''You have breast cancer''.
She had three 2mm tumours.
''There was no family history of breast cancer,'' McKerrow said.
She went for a second mammogram after her first showed something that needed further investigation.
''I had the second mammogram on the Friday and had to wait to till the Monday for the results, it was an awful weekend.''
Six weeks after getting the diagnosis, she had a mastectomy.
''I chose to have the mastectomy and my surgeon said it was the right decision to have made.''
The government had a mandate that there was to be no longer than a six-week wait from the diagnosis until the patient had a mastectomy, if that was the chosen course of action. Along with the mastectomy McKerrow had six months of chemotherapy in Ashburton and five weeks of radiation in Christchurch.
''While it was a case of bad luck for me, I was fortunate it was picked up quickly as I didn't know I had it.''
Getting regular mammograms is vital, because without it McKerrow would never have detected the cancer herself.
''If I hadn't gone for my regular mammogram, I may not be here today.''
While the whole experience was pretty awful, some parts were worse than others, she said.
''The chemotherapy was awful, but the worst part was losing my hair,'' McKerrow said.
Her cancer journey did not only impact her, but also her daughter, who was nine at the time, and her husband.
''They told me just to be upfront and straight with my daughter and I was. She coped with it better than I expected. My husband received counselling to help him.''
She was told that she would come right a year after the treatment, and that was her experience.
McKerrow can't speak highly enough about the support she received from the Ashburton Cancer Society.
''They gave us baking and brought us meals, which was really helpful.''
Prior to Covid, McKerrow attended the Ashburton Cancer Support Group, which is just starting to meet again.
''It was supportive to attend and talk with others who really understood what you were going through. Some of those attending were 20 or 30 years down the track from having cancer, and it was helpful to see them getting on with life.''
McKerrow can't stress enough how important it is to get regular checks for breast cancer. She now has yearly checks.
McKerrow said having had cancer, she finds it important to do something nice for herself each day, like going for a walk or going out for a coffee. She also participates in the weekly EA Networks Centre Pink Edition exercise programme with other survivors.
''Don't take life for granted. If you want new shoes go out and get them as you don't know how long you have to live.''
McKerrow has bought herself several pairs of new shoes, as she gets on with living life and celebrating her clearance five years ago.
Each year, McKerrow is one of the thousands of volunteers collecting for The Pink Ribbon Street Appeal.
The Pink Ribbon Street Appeal is on October 27 and 28. Ashburton Breast Cancer Support group for women meets at the Cancer Society rooms in Mona Square on the third Tuesday of the month from 10am-noon.