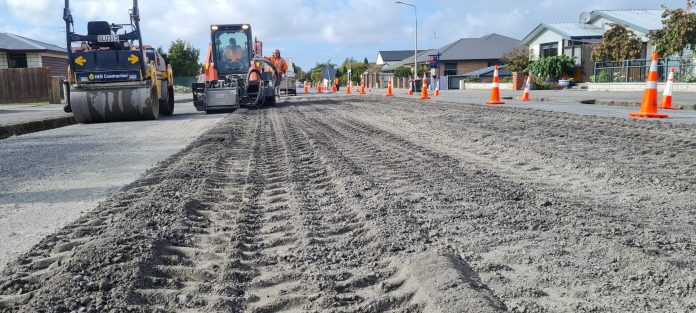 An extra $1 million of ratepayer money has enabled the rehabilitation of just four kilometres of road.
The district council recently allocated the additional funds to the roading rehabilitation budget for the 2023/2024 year.
Group manager infrastructure and open spaces Neil McCann said it would enable two 1km sections of Ealing Montalto Rd, 1.4km of Lismore Mayfield Rd and 0.4km of Maronan Rd to be rehabilitated.
Roading rehabilitation is a long-term fix and prevention, involving digging out and redoing a road to modern standards. It helps prevent potholes.
It comes as the number of potholes on roads in Mid Canterbury has skyrocketed in recent years.
The Ashburton Courier asked the district council how many potholes it has had to repair over the last five years.
There were more than 10,000 for each of the two years 2021/2022 and 2022/2023 (July 1 to June 30), compared to fewer than 6000 for the three years prior.
McCann said the susceptibility of roads to potholes was related to both the age of roads and the weather.
''When wet weather saturates our roads, tyres pump water into any defect, blowing out a hole in a short time,'' McCann said.
''Satisfaction with roads across New Zealand and Ashburton District has been steadily decreasing over the last twenty years, as our demand and heavy use on them has grown since many of them were built 80 to 100 years ago.''
McCann could not say he was confident the district council could keep up with the increased repairs.
''As potholes are heavily affected by weather it is difficult to tell, but what we'd like to do is more long-term road rehabilitation, the issue though is having enough funding to do so,'' McCann said.