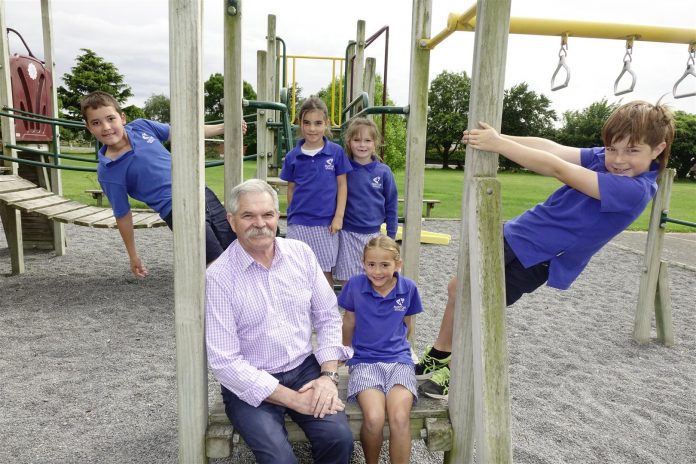 Fairton School principal Mike Hill is retiring from teaching after 42 years in education.
Mike started teaching at St Martins in Christchurch after realising he loved working with children.
''I had some experience working in holiday programmes for kids and really enjoyed that, and that's what triggered an interest in working with kids.
''I just enjoy seeing them being able to achieve thing and working at things, it gives you a bit of a buzz to see that happening,'' he said.
Mike often runs into students he has taught through the years.
''The good thing is they will cross the road to have a chat and ask how I'm doing, and I ask them what they are doing now. Sometimes its a bit of a struggle remembering their names,'' he laughed.
Mike said a highlight of his career is all the different children he has come across in the classroom, ''all their different talents and abilities, as well as the teaching staff that you meet, there are some great teachers out there. I think that is a highlight, just those relationships you form along the way, both with students and colleagues.''
Mike's first principal position was at Wakanui in 2002; he started at Fairton School in 2019.
Mike describes Fairton as a great little rural school, ''the children can make huts in the hedge, climb the trees and it is the focal point for the local community.
''Being part of that rural little heartland community that is what I think is great.''
Over the years he has seen many changes in the profession which Mike said included the demands on schools being too great.
''Schools are being asked to do things that I think in a lot of ways are actually the responsibility of parents and the community.''
Mike said schools are asked to be nutrition police, ''check what kids have in their lunch boxes – things like that, my opinion is that's
the parents responsibility, in some ways what schools have been given to do has disempowered parents, what we should be doing is empowering parents to do those things.
''Schools shouldn't be acting as police for nutrition, health and fitness, I know there have been conversations about relationships and sex education and that schools aren't spending enough time on that.
''My view again is that shouldn't be the responsibility of schools, it should be a privilege and joy for parents to be able to do that.
''Literacy, numeracy, science and social sciences are the core subjects, they are the key areas that schools need to focus on and with so
many demands some of those core areas are taking a hit.''
Mike is staying Mid Canterbury and his plans for retirement include his never ending list of DIY jobs and an Italian machine hiding in the
garage. ''I've got an old motorbike project in the garage I want to finish and take it down to the Burt Monroe Challenge, it's an old Italian Moto Guzzi,'' Mike said.