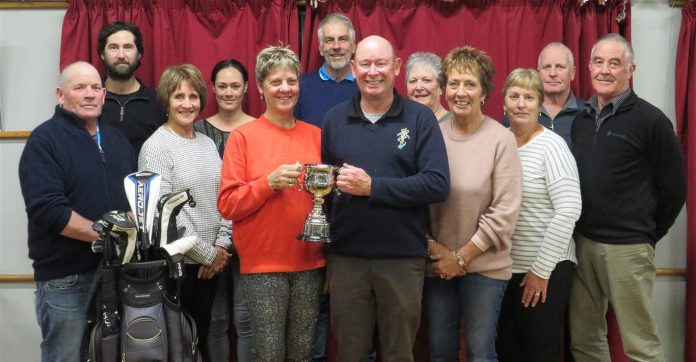 The Ashburton RSA golf section has taken home a slew of honours in the South Island chartered clubs mixed golf tournament.
The two day tournament this month was hosted by Hornby Workingmen's Club and played on the undulating course of McLean Island Golf Club, with big greens, and lots of trees.
Ashburton pair Andrew Barrie and Jo Peacock won the tournament trophy outright with a score of 215, and Gordon Rennie and Barb MacGregor missed out on second place with 216 to Hornby duo Janette and David Benn after countback (the best score over a small section of play, usually the back nine holes).
Fourth placed was Gary Lee and Sue Newman (219), then in order, after countback, Warren Scott and Sally Lane
(220), Bev Chin and Bruce Day, of Ashburton MSA (220) , and Paul Hefford and Christine Ross (220). There were 42 teams of mixed pairs entered and Ashburton had the biggest player contingent with seven teams.
Ashburton RSA golf section chairperson Bruce Collins said it was the best result for Ashburton in the five years it had been running.
Ashburton teams, with drawn pairs, took out more than half of the top 10 prizes up for grabs during the tournament which saw day one scored four ball best ball, and day two stroke play (combined nett).
Many of the club's section were former players from the Tinwald Workingmen's Club and played at Tinwald Golf Club, Collins said.
The workingmen's club folded around 2011. The RSA has around 22 members in the golf section and the mix tournament is an annual event, hosted by a different chartered club. Next year it will be hosted at Kaiapoi.
Men and women have separate tournaments at other times of the year; the men at Waitangi weekend, and the women at Labour weekend, Collins said.
Ashburton RSA players have done well in those tournaments too in the past winning trophy cups.
''It's quite a strong section,'' he said.