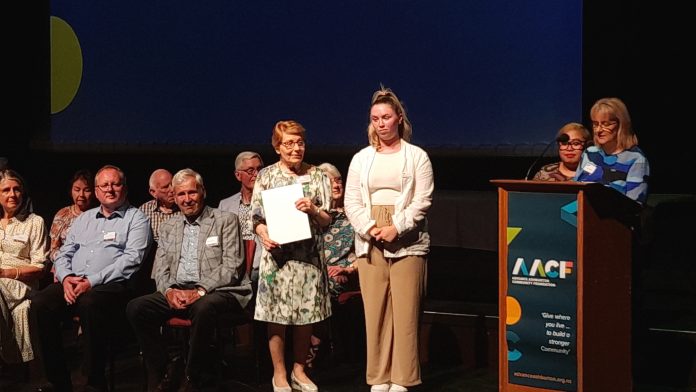 Twenty seven scholars received a financial boost this week with scholarships through The Advance Ashburton Community Foundation.
The foundation, led by new executive officer Carolyn Clough, held their 2023 scholarship presentation ceremony at the Ashburton Event Centre on Tuesday.
The scholarship funding, with a combined value of nearly $113,000, was presented to the range of recipients from Mid Canterbury for study, training and personal development.
The scholarships are highly sought after and the calibre of recipients in 2023 was excellent, Carolyn said.
''The application process is rigorous with a written application followed by a personal interview with Advance Ashburton Trustees and relevant industry leaders, followed by referee endorsements.''
"Aside from their continued excellence in their studies or training, each recipient this year has demonstrated a willingness to give back to their community through coaching, leadership or volunteer work.''
The premier scholarship of the evening – The Neil Sinclair Memorial Scholarship – was presented to teacher-in-training Sarah Rawlings.
''Sarah impressed the interview panel as the sort of teacher who will make a real difference in the lives of her students and was awarded the Neil Sinclair Memorial Scholarship.
''Neil Sinclair was passionate about supporting the Ashburton community and established the Advance Ashburton Community Foundation in 2003.''
Neil was represented at the ceremony by his wife, Jeanette, who was pleased to award the scholarship to Sarah as a very worthy recipient.
Three new scholarships were also awarded – the inaugural Dennis and Barbara Taylor Nursing Scholarship was awarded to Caroline Murdoch, in her final year of a master of nursing science, the Colin and Alison Crampton Music Scholarship went to classical voice student Erin Connelly-Whyte, and the Frank Crampton Agricultural Scholarship went to Penny Stilgoe, studying a bachelor of agriculture at Lincoln University.

The full list of scholarship recipients are:
Smyth Scholarship – Kavan Faoagali and Caitlin Muckle.
Parsons Family Scholarship – Angus Mears and Emma McDowell.
Ian Glassey Memorial Scholarship – Emma-Louise Stagg.
Graham Gunn Music Scholarship – Ngahuia Maeva.
Colin & Alison Crampton Music Scholarship – Erin Connelly-Whyte.
Johnston Brothers Health Science Scholarship – Sarah du Toit and Violet Eaton.
Dennis & Barbara Taylor Nursing Scholarship – Caroline Murdoch.
Cameron Family Scholarship – Gemma Whiting.
Ashburton Hearing Association Scholarship – Caleb McNulty.
Tinwald Club Scholarship – Annabel Spicer.
Rotary Club of Ashburton Plains Scholarship – Madison Trusler-Clark.
Ashburton Jaycees Personal Development Scholarship – Emma Simonsen.
Ashburton Jaycees Industry Training Scholarship – Mihaela Bec, Emma Begg, Amanda Johnson, Nicholas Rattray, Jacob Swan, Brodie Winstone, and Mickele Young.
Ashburton UFS Health Science Scholarship – Hannah McDougall and Drew Porter.
Frank Crampton Agricultural Scholarship – Penny Stilgoe.
Advance Ashburton Scholarship – Harriet Stock.
Neil Sinclair Memorial Scholarship – Sarah Rawlings.