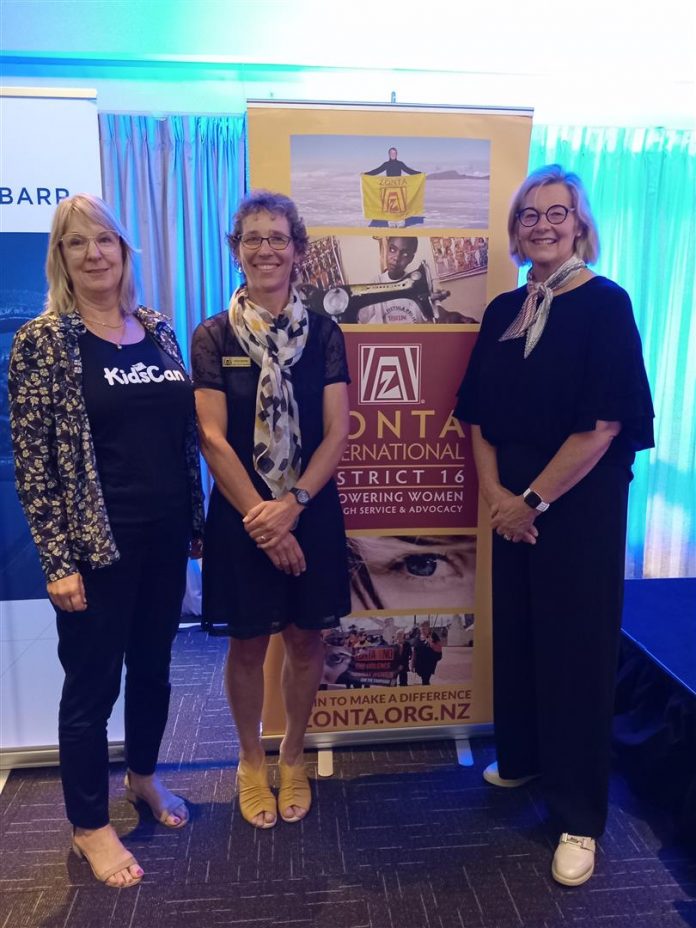 The Zonta Club of Ashburton has been holding a breakfast with inspirational speakers to celebrate Women's Day for the past 27 years. This year, 260 women gathered at the Hotel Ashburton to hear from members of Zonta, Julie Chapman and Lisa Andrews from KidsCan and Jo Taylor from Kai for Kids in Mid Canterbury.
Zonta is an International Women's service organisation that has been serving around the world for 104 years.
In Ashburton, they have been providing the Female Art Award for 14 years, the "Say No to Violence" campaign, they do meals on wheels, assist at the Ashburton A&P Show, fundraise for causes like "Grandparents raising Grandkids" and provide scholarships.
All funds they raise go direct to the cause the money is raised for.
They are a local, national, and international service organisation providing advocacy, standing up for women's rights, gender equality, stopping violence, improving women's health and giving children access to education.
Julie Chapman, the founder and chief executive of KidsCan, started the organisation 18 years ago.
Her passion to start the organisation came from hearing that New Zealand children were going without the basics; things many take for granted like food, shoes and coats.
Children were either arriving at school unfit to learn because they were hungry or they weren't coming to school because they didn't have the basics.
Following a survey of 80 lower decile schools, Julie set up KidsCan to provide the things missing in children's life, nutritious meals, warm jackets and good footwear.
It began with 40 lower decile schools and today there are 1000 schools and early childhood centre's that are part of the programme, each day feeding 55,000 young people in New Zealand.
The programme in early childhood centres is so important because these children are even more vulnerable.
Ma ¯ori and Pacifica students are five to six times more likely to live in hardship and poverty and for many they are in survival mode all the time.
In term four 2022, 10000 more students needed help than in term four in 2021.
The name KidsCan means – kids can achieve, kids can learn and kids can be what they want to be if they are provide with the right environment.
Verity, an alumni of KidsCan, said "you feel like no one cares, no one sees you, you're not worth much, when you don't have the basics but with KidsCan I got one meal a day and for the first time in my life I got my own brand new shoes."
Lisa Andrews, general manager of KidsCan said "the organisation knew at the beginning of 2023 it was going to be a tough year with the 'cost of living crises' but the floods and cyclone have made it even tougher for some.
There is now a greater demand for food and clothing, and they are working to get kids and their families back to ''living and learning''.
Over 65 per cent of the families KidsCan work with live in the areas impacted by the floods and cyclones.
Many children are now traumatised every time it rains.
KidsCan is about giving all children a fair start in life, knowing that small things can have a huge and lasting impact on a child.
New Zealand was the first country in the world to give women the right to vote, and proudly celebrates International Women's Day on March 8 each year, since inception in 1911.
The idea of a Women's Day came from the International Conference of Working Women in Copenhagen in 1910.