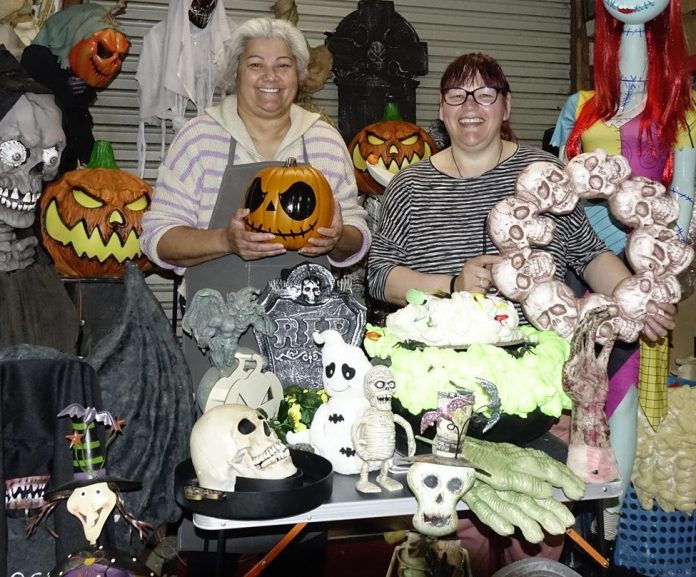 Leonie Robinson of Ashburton has been busy leading up to Halloween tomorrow, making dozens of scary-looking characters.
The information manager with a gift for electronics is wanting trick or treaters and Halloween enthusiasts to stop by.
She is hosting the fundraising Halloween Event, a collaboration between herself, as the home owner and prop creator, and Cardiac Kids Club Mid and South Canterbury.
Entry to the ''unforgettable Halloween night'' is a $2 donation per family.
Robinson said she was in her element when it came to creating ''spooky fun'' props. It was something she had done for more than 20 years each Halloween.
''I love it, because it's a great mixture of arts and crafts, recycling, number eight wire and electronics,'' Robinson said.
''Over the years I have got better at it, when I first did it, it had to be dark before they looked half decent,'' she said.
This was the first time she was opening up her home to the public.
Attractions will include a backyard graveyard and Nightmare Before Christmas display, towering boogie man called Oogie Boogie, super-sized spiders, singing pumpkins, talking skulls, moving graveyard skeleton, a cauldron, as well as a haunting of ghosts and other frightening characters.
On the weekend, her friend and Cardiac Kids Club representative Kylie Moore helped install the characters at spots calculated to provide maximum scare value.
Moore said she was also looking forward to the event, at which she hoped many would pop in to as they got into the fun spirit of Halloween.
She said Cardiac Kids Club was established last year. It is a non-profit community-led club supporting children, teens and adults with heart conditions, and their families.
* Halloween Event is at 18 Jordan Ave, Tinwald, October 31, from 3.30pm, last entry 9.30pm, $2 donation per family.