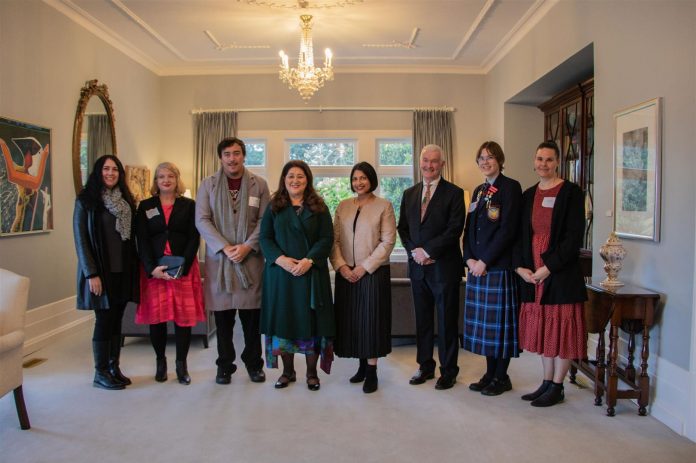 The last two week's have seen Taylor Doyle surprised on two occasions.
Taylor was chosen as one of four volunteers from around New Zealand to be acknowledged by the Governor General Her Excellency, The Right Honourable Dame Cindy Kiro, and Minister of Community and Voluntary Sector Honourable Priyanca Radhakrishnan.
The second surprise was to find she and another young volunteer were the stars of a celebration event in Auckland last Friday.
Mid Canterbury Manager of Volunteering Mid & South Canterbury, Dellwyn Moylan, along with her colleagues in the 17 Volunteer Centres around New Zealand, were given two days to send in up to three stories of volunteers in their community to Volunteering New Zealand chief executive Michelle Kitney.
From the stories submitted, Ms Kitney chose some, including two from Mid Canterbury, to be sent to the Governor General and Minister.
After reading the submitted stories they choose four to be invited to the National Volunteer Week function at Government House in Auckland.
When Taylor was informed Volunteering New Zealand was flying her to Auckland for this very special occasion, she was hanging out with her friends, there were hugs and dancing, and along with her mum they were thrilled for her.
The celebration of volunteers was attended by around 150 volunteers and managers of volunteers along with the two stars – 15-year-old Taylor and 17-year-old Reagan Habib-Mitchell, of Gisborne.
There was a surprise on arrival at Government House, two large boards with the story and photo of Taylor and Reagan.
Prior to the event celebration Taylor and her mum Zalie, Reagan and his guest had a private audience with the Minister where she asked Taylor about her badges on her Ashburton College blazer.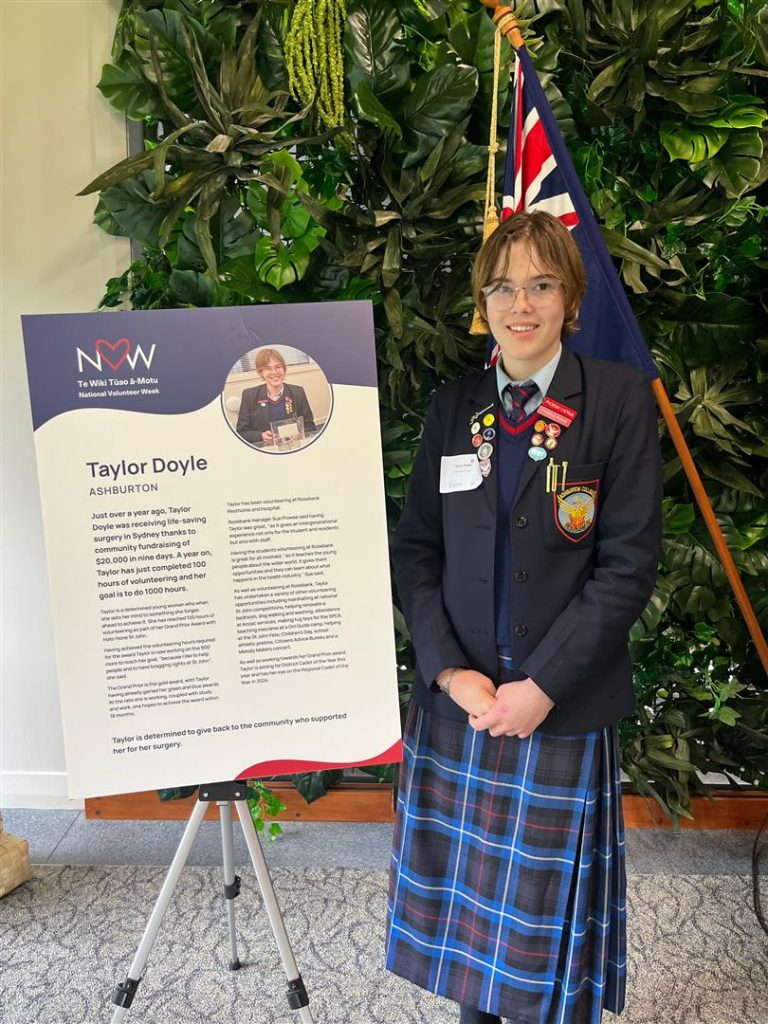 The afternoon tea event was attended by Dame Cindy, her husband Dr Richard Davies and Ms Radhakrishnan.
Taylor didn't feel awkward meeting Dame Cindy "she was really nice and genuinely interested in me and what I had done."
Ms Radhakrishnan said, "when I read Taylor's story, I was absolutely astounded that someone so young had endured so much and had then dedicated a significant portion of their life to helping others."
The Minister then shared Taylor's story that after lifesaving surgery in Australia last year, she has gone on to complete over a hundred hours volunteering in the community and is now working towards her goal of completing 1000 hours.
Ms Radhakrishnan said, "Taylor, it is my privilege to be able to celebrate your achievements here today. You are a remarkable young person who makes the lives of others better because of your generosity and selflessness, but I suspect we are still to see the best of you. Thank you and I wish you the very best in all of your endeavours."
Ms Kitney spoke of leadership and volunteering. From her own experience volunteering she said "I learnt skills and developed my leadership muscle which I could take on to my professional life. I'm sure many of you have similar stories."
Ms Kitney described the four volunteers who had been selected by The Governor General and The Minister as leaders.
One of those volunteers was Kevin Joblin who "saw a need in the community and began visiting victims of crime to be a listening ear. That offer of service grew into what became Manaaki Tangata Victim Support."
The other volunteers acknowledged were both from Gisborne – Reagan, and Aaria Tatu Reddy who "are active participants and leaders in their own communities.
''Faced with the challenges of flooding and cyclones, they acted to meet the need. And by volunteering, they gave themselves – and their communities – hope for the future."
Aaria was unable to attend the event as she was working at her local Marae due to the Civil Defence emergency declared in the area.
Ms Kitney said of Taylor, she "hasn't let her health challenges stop her from active participation in her community. She sets her goals, sees opportunities and acts. Taylor is a young leader with a bright future."
Taylor wasn't sure she had ever shaken so many hands as she did at the event.
''Lots of people were coming up to me and saying I was an inspiration and congratulating me."
On the trip home she said to her mum, "I don't think I can ever stop volunteering now."