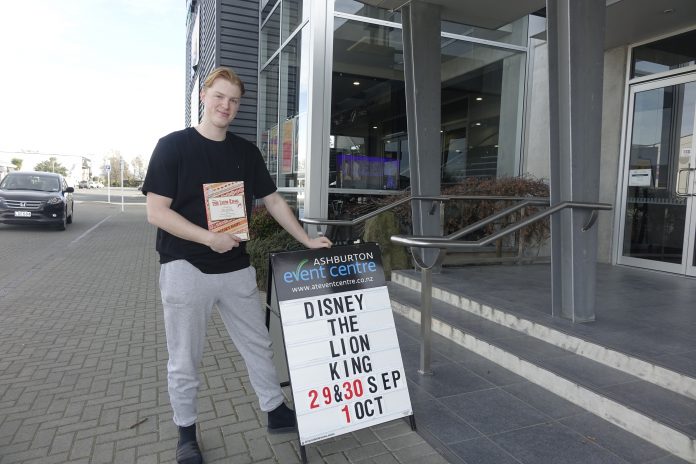 It was just seven years ago TobyLee acted in a Mid Canterbury Children's Theatre production, as a starry eyed 14-year-old.
Now he is back as anadult, having been hiredto musically direct the theatre group's 2023 show, Disney The Lion King Jr.
As Lee grew up in Ashburton, he was a children's theatre regular, appearing in productions including Annie in 2011 and Aladdin in 2013.
The last one was Xanadu in 2016, in which he played Centaur.
The 21-year-oldsaid it was ''quite cool'' to be back at the children's theatre group of his home town as he strived to build a career in the performing arts.
''It's lots of fun, it's quite cool coming full circle,'' Lee said.
Lee finished a Bachelor of Performing Arts at NASDA last year.
In his final year of study he produced and directed Broadway musical Glory Days, staging it in Christchurch and Ashburton.
He recently starred in sellout success Cabarnet II at Ashburton Event Centre, among a group of male vocalists who have their roots in Mid Canterbury theatre.
Lee said the professional role as musical director for the Lion King show was his first musical directing role.
It was also his first time directing children, something he was very much enjoying.
''It's nice to see them learn and be happy with what they are achieving. it's rewarding for them and rewarding for me,'' Lee said.
Rehearsals, which began about two months ago, were going well.
''We have learned all of the songs now.''
Lee is working alongside director Cherie Livingstone and choreographer Jessie Thomson for Disney The Lion King Jr.
The productionhas a large cast and crew, of 62 children, aged seven to 18.
Lee has been workingas a plasterer to supplement his performing arts income, but he hopes to ultimately make his living from theatre.
He said he can not choose what he likes better, performing or directing.
''There's no reason I can't have a career as both,'' he said.
* Disney The Lion King Jr will stage September 29 – October 1 at Ashburton Event Centre. Tickets are on sale.