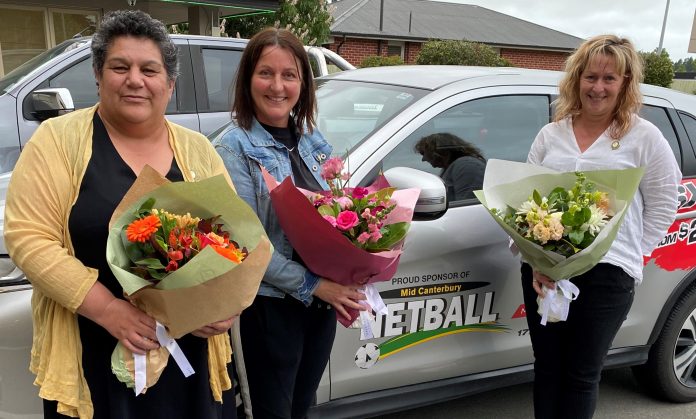 One of the most recognisable faces in the district's netball coaching circles is now Mid Canterbury Netball's newest life member.
Andrea Cousins topped off an already incredible year with the surprise presentation of a life membership at Mid Canterbury Netball's 99th AGM last week, while two other familiar faces on the Mid Canterbury Netball scene – Tania Rule and Janene McDowell – received service awards.
The life membership was a surprise to Cousins, but listening to the long list of achievements read out as part of her citation, it wouldn't have been a surprise to many others in the room.
The list was extensive.
Since her days as a Hampstead player in the 1990s, Cousins has not looked back. There's not many hats she's not worn over the years, but coaching has been her number one passion for a long time now.
"I only coach because I find it so enjoyable, so to see that it is appreciated is very humbling," Cousins said.
Hampstead has been her home club for many years now and she's an integral part in its running, but her coaching has also taken her out of Mid Canterbury; she has been coaching club and school teams in Christchurch over the years including this year as coach of the Canterbury U18 team which claimed the national under-18 title.
In 2020 she was the coach for the Mainland team in the Beko National Netball League, and in 2021 she was the apprentice Tactix coach.
In 2022, as well as coaching the Canterbury U18s, Cousins also coached the Lincoln University team to the Christchurch premier title, and the Hampstead U17 Development team in the Mid Canterbury Netball ACL Premier 3 competition.
She was also named the Christchurch Netball Centre's coach of the year, won Mid Canterbury Netball's Old Collegians Cup for coaching, and won the coaching title at the Netball NZ volunteer of the year awards.
Overall, the list of teams she's coached and titles she's won over the years run in to pages, and alongside that she's delivered countless coaching sessions at both club and centre level, and continued to add to her own qualifications.
Always generous with her time and advice, Cousins' enthusiasm for the game of netball was described in her citation as second to none.
Also recognised at the AGM, was another familiar face within the Hampstead club – Janene McDowell. McDowell received a service award for her many years of service to netball in Mid Canterbury.
A Hampstead player since the 1990s, McDowell has been president of the Hampstead club committee since 2016.
She first joined the committee in 2012 and has worked in all areas from raffles and bar duties, to helping with uniforms and coaching.
She's also been a rep coach and manager for Mid Canterbury representative teams and has acted as a duty manager and assisted with grading for a number of years.
The night's other service award went to Tania Rule, whose most recent contribution to netball in Mid Canterbury has been as a bench official.
As a bench official, Tania achieved her national technical official qualification in 2020, which enabled her to attend national tournaments and participate in ANZ Premiership games, making her bench debut at ANZ level in 2021.
This year, she attended the New Zealand Secondary Schools' Tournament as a bench official.
She is an integral part of the local bench officials' team, has been a member of the Ashburton College Netball committee since 2017, and is the manager of the College A team that takes part in both the Mid Canterbury Netball premier competition, and Christchurch's premier secondary schools' tournament, SuperNet.
Tania also travels to Christchurch fortnightly to work on premier games in the Christchurch Netball Centre competition.