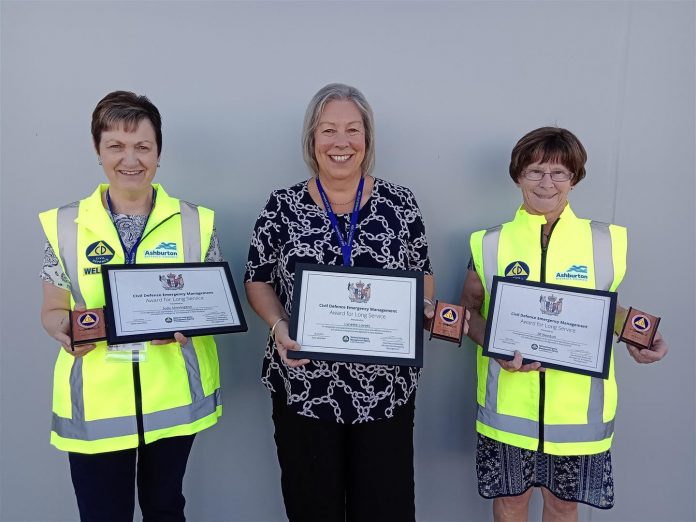 While many people in retirement take it easy, three local women volunteer with Ashburton District Civil Defence and were recently acknowledged for their long service.
For over ten years now Jill Newton, Judy Skevington and Lynette Lovett have been ready to respond when a disaster hits.
Jill's volunteering began in the 1974 floods in Southland. Jill said there was a need for volunteers and she responded.
Judy and Lynette came into volunteering with civil defence at the time of the Canterbury earthquakes. They were Red Cross volunteers but weren't needed inthat capacity, however their skills were required with civil defence.
Lynette said their volunteering was varied and they did what was needed in each situation.
''One day it could be gird searching, next day it could be in a welfare centre,'' she said.
Responding to floods in the Ashburton District has seen the volunteers called up on several occasions.
Someof the volunteering can be inside but not always. It could be wading thorough rising waters, as Jill did in 2016 to assist in the evacuation of people or walking the streets checking on people and their welfare.
When the Hurunui earthquake struck they were deployed to Waiau to assist at the welfare centre and doorknocking.
They were there to assist the local civil defence volunteers by taking over to give them a break.
The days are long.
''The work isn't always easy and at the end of shift, there is no comfy bed to jump into, its usually bunking down on the floor,'' Lynette said.
Civil defence volunteers respond to more than just floods and earthquakes. When the Hakatere settlement was evacuated sometime ago because of atsunami alert, the volunteers supported residents at the evacuation centre.
The volunteering is mainly in the area of welfare responses. Within welfare there are a variety of areas to help in such as registering volunteers, psychological first aid, directing them to agencies such as the Ministry of Social Development or the Salvation Army to assist with needs.
''Being acivil defence volunteer can involve assisting outside of emergencies helping at community events and in at vaccination clinics, in non clinical roles,'' Judy said.
There are many joys and highlights for the ladies in their volunteering, for Lynette it's part of her DNA to give back to her communityand being part of a team.
Judy's rewards come from knowing she is making a difference in people's lives at a challenging time.
Helping others is what motivates Jill to volunteer.
More volunteers are needed for welfare and radio roles with civil defence. Being able to think on your feet, remain calm and adaptable are skills needed to assist in an emergency.
Watching the changes in people at emergency welfare centers because someone is providing a non judgemental and listening ear, a warm welcome at a safe place is the reward Jill and Judy have receive from their civil defence volunteering.
They don't do their volunteering for recognition but it is nice to be recognised, Judy said.
Civil defence volunteers nationwide were recognised for their service with the presentation of certificates of appreciation from Minister of Emergency Management Kieran McAnulty and an award for their long service, in Ashburton they were presented by Ashburton deputy mayor Liz McMillan.