The dedication and compassion of Ashburton teen Madeline Tew has been recognised in the youth volunteer awards.
She was named the 2023 Youth Volunteer of the Year.
Madeline was one of 18 nominees, aged between 13 and 24, put forward for the Volunteering Mid & South Canterbury annual youth volunteer awards.
All the nominations came from a range of organisations, schools and clubs.
The awards evening was held in Ashburton on Tuesday.
Madeline, 14, was nominated in the community category for her volunteering work by members from both Kai for Kids and Ashburton Toy Library but also volunteers with St John, Children's Day and does rubbish collecting and netball coaching.
Awards organiser and judge Dellwyn Moylan, of Volunteering Mid and South Canterbury, said all the nominees were of high calibre and came from a cross sector of the community including Safer Mid Canterbury, Ashburton Cadet Unit, Student Volunteer Army, Digital Waitaha Charitable Trust, Ashburton Christian School, Allenton Hockey Club and Methven Hockey Club.
''It wasn't easy to select category winners,'' she said.
The other judges in the awards were 2022 Youth Volunteer of the Year winner Sam Cullimore and Hampstead sports stalwart Jim Henderson.
In Madeline's nomination from Kai for Kids Charitable Trust she was described as ''a quiet studious young lady. She approached our organisation Kai for Kids at the start of the years to offer her time to volunteer in our kitchen after school.
''Madeline turns up every week on time to our kitchen to perform a variety of tasks asked of her. She shows initiative and a good work ethic. She is efficient and very capable. Madeline is reliable and takes pride in her work.
''She shows enthusiasm and grace. Madeline speaks politely and is a pleasure to work alongside in the kitchen.
''As well as volunteering at Kai for Kids Madeline volunteers at a variety of other organisations in Ashburton which shows she is a kind and caring young lady. Who shows compassion and empathy towards others.
''Madeline is an exceptional teenager who I can see will be a very valuable member of society and will be a great role model to other young people around her."
Madeline's nomination from the Ashburton Toy Library said Maddie had been volunteering regularly at the toy library since October.
"She is working alongside the librarian and checks off toys that are being returned by members to record if there are any missing pieces with the toys.
''Her calm demeanour helps her get through the piles of toys to check off, all the time with a large smile.
''She is a conscientious volunteer who is happy to do any job at the toy library that needs doing, from cleaning toys to tidying the toys on the shelves. She always keeps busy finding jobs to do.
''The Ashburton Toy Library value having Maddie regularly volunteer at the toy library as we know she manages to schedule it in with her other volunteering, St John Youth Cadets and sport."
Other category winners were:
Community winner Megan Rutter, 20 nominated by Digital Waitaha Charitable Trust. Runner up Kristen Harris, 23, nominated by Ashburton Cadet Unit.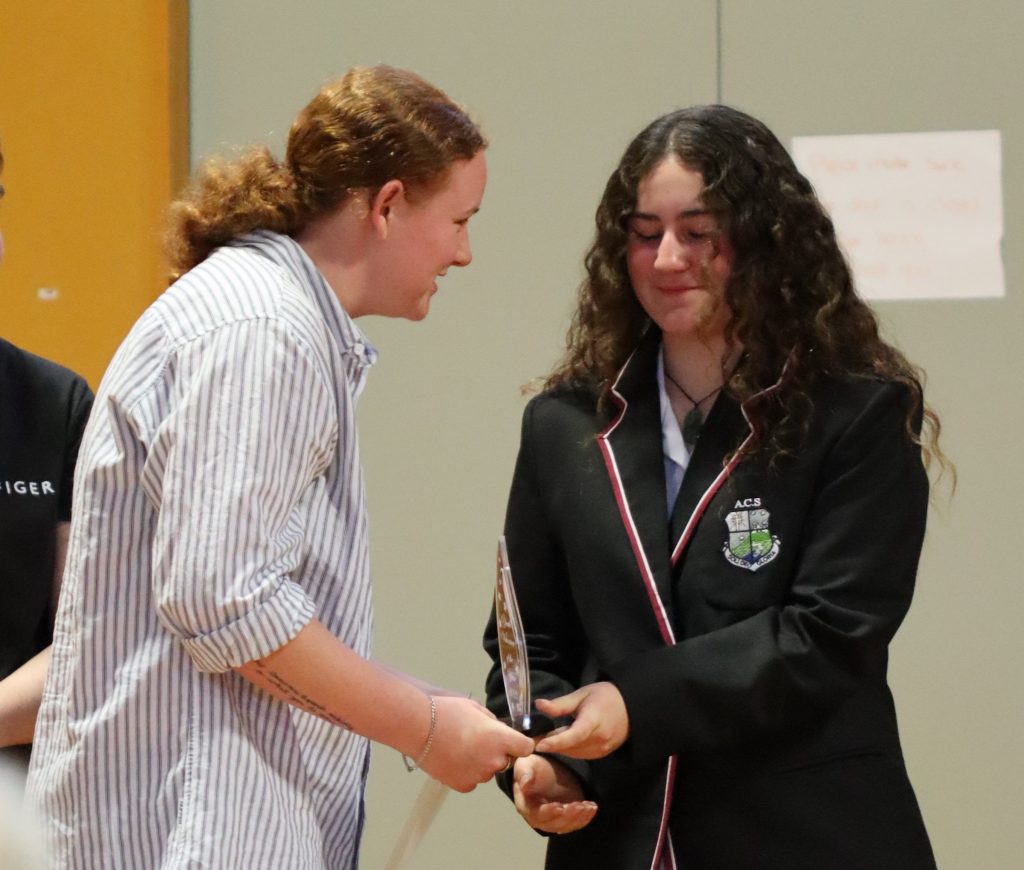 In her nomination Megan was described as an extraordinary member of the Digital Waitaha Charitable Trust organisation due to her commitment and exceptional youth ambassador leadership.
''As a founding trustee since its inception in 2021, her dedication to promoting digital wellbeing and safety has been instrumental in shaping our organisation's mission and impact.
''Megan's skills include digital native expertise, impressive presentation skills, and a remarkable ability to connect individuals across the generations.
''Megan possesses exceptional qualities such as dedication, resilience, and a passion for empowering youth. She has a unique ability to inspire others and foster collaboration, making her an invaluable asset to our organisation.
''She was acting chair, she co-ordinated youth focus groups to aid Neysa, our lead co-ordinator, in her research to creative the innovative programme, STOP, BLOCK and TALK for digital wellbeing and safety.
''Her efforts helped secure national funders to sponsor our Orange and Blue books for youth, whanau, and the Web Wise Warriors podcast. She has helped empower countless individuals, especially young people, to navigate the digital world safely.
''Her involvement in educational programmes and the Ask a Rangatahi initiative has benefited our clients and community members.
''Megan has also volunteered as a coach with Methven Football Club, as a youth leader at both the YMCA and CACTUS and through Mt Hutt College as a Prefect and House Captain, and on the Welfare and Anti-bullying committees.''
Culture winner Alastair Kilgour, 18, nominated by Ashburton College. Runner up Jarred Munn, 17, nominated by Ashburton College.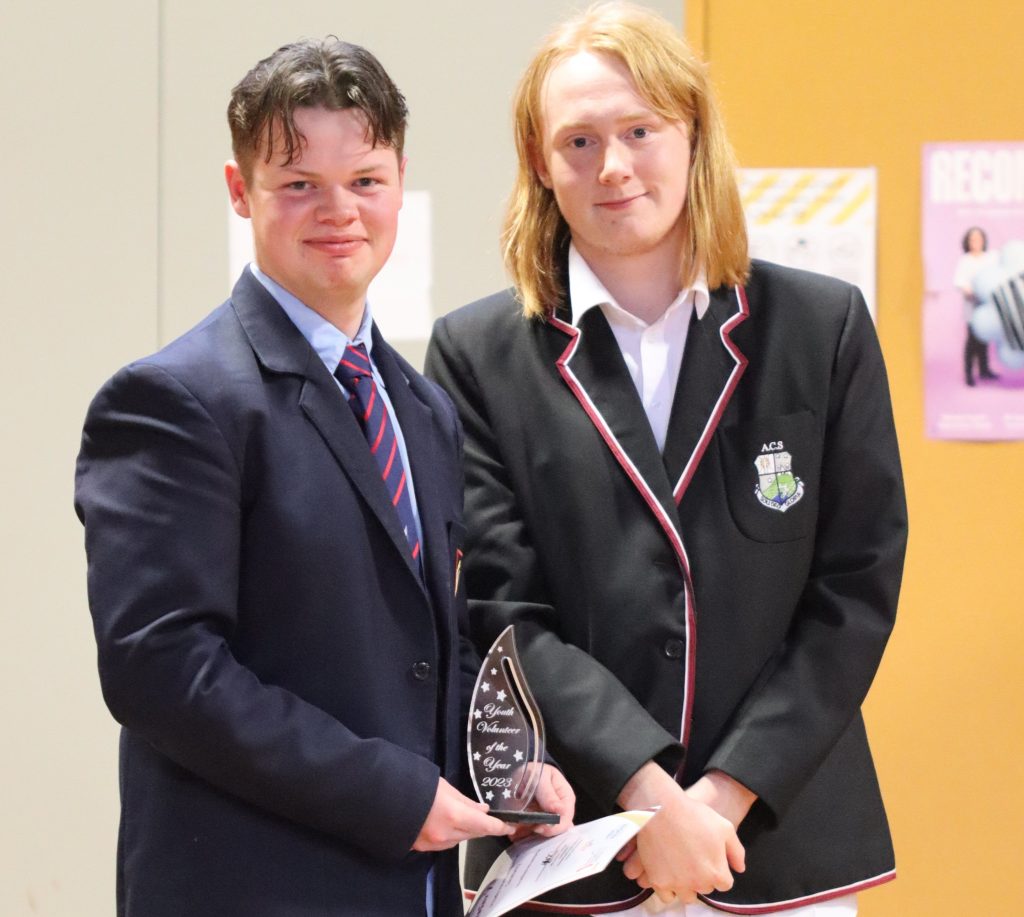 In his nomination Alistair was described as only joining Ashburton College last year but fitting into the technical team like a seasoned pro.
''His contributions as a stage manager particularly have been outstanding.
''When we stage a large production Alastair has been responsible for the rehearsals, pre-season, and bump out. And this means wrangling student performers, crews, staff, audience, and front of the house.
''Alastair has been cheerful, energetic, and diligent in all of his work in the technical team.
''He also has an excellent range of skills in theatre disciplines such as lighting, sound and follow-spot operation and has volunteered those skills for a numerous show in the past two years. In a short time, his contribution has been enormous!
''Alastair is also an excellent ambassador to the Court Theatre and a role-model for younger tech students.
''Alastair also volunteers at the Ashburton Event Centre as a tech volunteer, a volunteer stage manager with the Ashburton Children's Theatre and is a senior Non Commissioned Officer with the Ashburton Air Training Corps.
Sport winner Alex Bateman, 19, nominated by Mid Canterbury Netball. Runner up Faith Davies, 16, nominated by Dynamic Gymnastic Sports.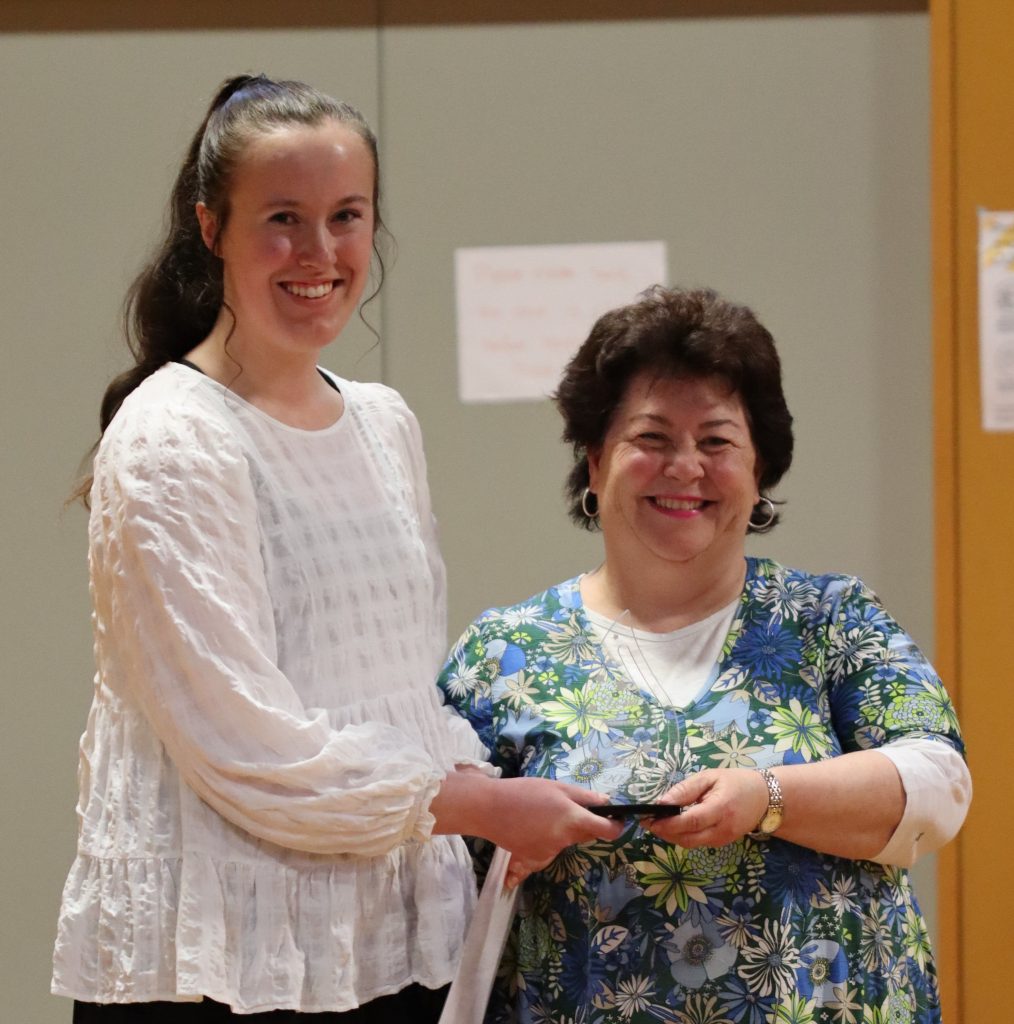 In her nomination it was noted Alex has been volunteering for Mid Canterbury Netball since 2018, where she started off as a junior umpire on our Saturday morning competitions.
"Each year since then she is the first to volunteer her time as an umpire, and in 2020-2023 she started giving back her umpiring knowledge by becoming an umpire coach to our junior Saturday umpires.
''This entails being at Saturday morning netball from the first game at 8.45am until the last game at 12.55pm, all of the junior umpire's love Alex and her gentle yet supportive approach into umpiring, and the confidence she would pass on to our junior umpires.
''Once she has finished in the mornings coaching our junior umpires, she then puts on her own umpire shirt and umpires in our Saturday afternoon competition.
''Alex is a vital member of the Mid Canterbury Netball Youth Advisory Group, who meet to discuss our strategic plan and deliver to the Mid Canterbury Netball Board on how we can meet our visions and missions in the youth sector.
''Alex lives and breathes netball, she is always willing to lend a helping hand, and has happily helped run many of our events, her can do attitude and bubbly energy is always nice to have on and around the netball court.
''Alex has also been a coach for Hampstead Netball Year 7 and 8 and Year 9 and 10.''