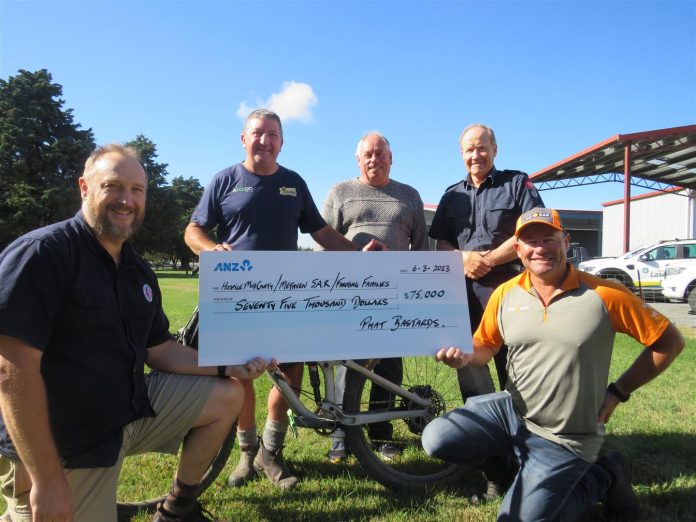 Future proofing services and helping people get back on their feet are among the needs to benefit from the Phat Bastards bike group's 48-hour charity ride.
Phat's members raised a whopping $75,000 for Farming Families, Hospice Mid Canterbury and Methven Land Search and Rescue last month riding the Ashburton River mountain bike 10km loop track in relay-style over a 48 hour period. Each organisation has received $25,000.
Members did 585 loops, clocking up 6200km.
It was an ''unexpected windfall'' for the organisations who all help people in the Mid Canterbury community.
Farming Families' representative Bruce Taylor said''it's a great amount of money … the dollar value is probably the epitome of the people that have managed to get it for us and… going to be helping our communities.''
Mr Taylor said Farming Families were still to confirm where the money would go but there was an idea going to its committee.
''We going to look, to possibly, (and we'll put it through our committee), set up a separate fund with the money so it can be used for something completely different from what we're doing day-to-day.
''For interest sake it could be used as a salvation fund for somebody who gets into some trouble or may lose a loved one, or may lose a house or something like that.
''So we'd like to do something like that, so it sits completely alone, so it's basically a Phat Bastards fund.''
Methven Land Search and Rescue's Don Geddes said the donation was an ''amazing gesture and fantastic effort'' from the Phat Bastards and one which could help future proofing access or provide vital equipment for the organisation.
''We haven't tagged anything specific yet but … we've got an issue at the moment where we've had use of some private land as a car park at the back of our building and that potentially we might end up having to purchase that little bit of land to retain our access on site, so it will got a long way towards helping,'' he said.
''But other than that we're always replacing equipment and it will certainly – the unexpected windfall – will come in very, very handy.
''It's an amazing gesture and fantastic effort for what these guys have done,'' he said.
Hospice Mid Canterbury's Fiona Giles agreed and said ''it's absolutely wonderful. We are blown away with just how generous everyone has been and how much work and dedication the cyclists have put into raising the money – and that it's going to help people in the Ashburton District specifically.''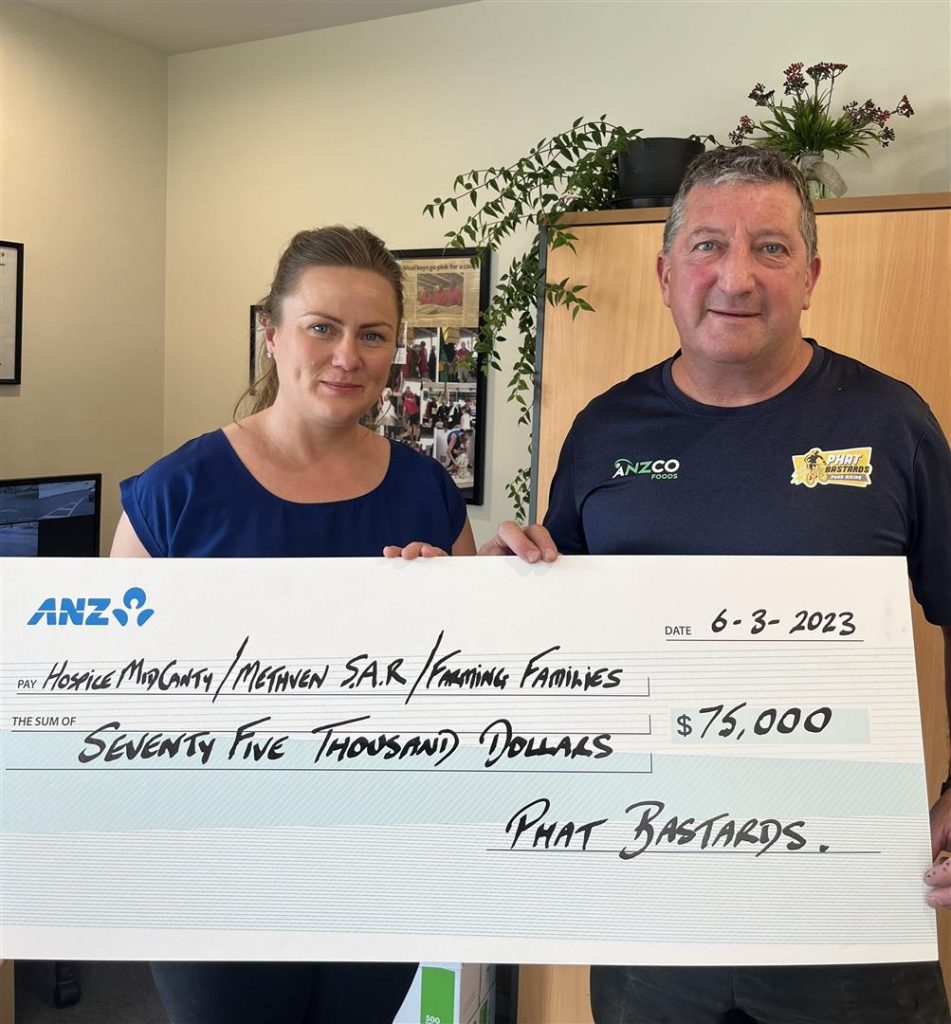 She said hospice funds would go towards ''supporting people in the district with a life limiting illness to live every day in whatever way they choose. Whether they want a massage, or whether they want some therapy, counselling, whether they want to come to activities, whether they need transport, all those things, it really is to support them.''
Phat's bike spokesman Dean Harrison said the ride had been ''an ultimate team effort, everybody pitched in. It didn't matter if they rode one lap or ten laps you know, it was a bloody good effort.
''It was a really enjoyable event and it created a few memories, especially for the kids that were there, the families and stuff, it was a lot of fun. We enjoyed raising the money.''
He made special thanks to the community for contributing.
''We couldn't have done it without people dipping into their wallets. They were really generous, the whole community.''