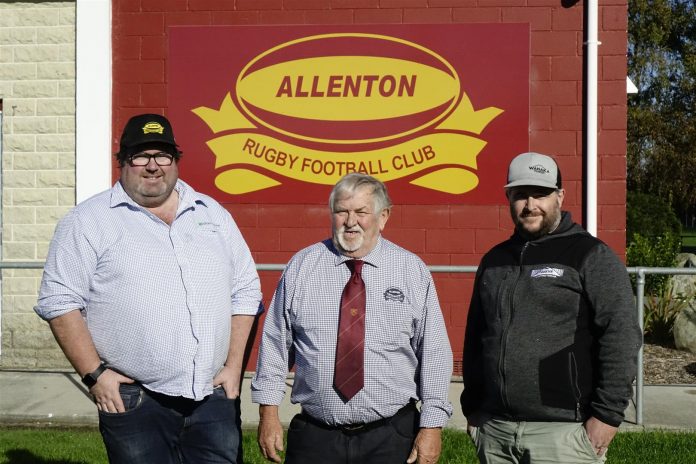 The Allenton Rugby Football Club is celebrating its centenary this month.
In 1922 the club was launched by a group of keen young men, initially fielding two third grade teams.
During the early years training was at the Allenton School grounds with little lighting and no changing facilities. Players had to change in the dark among pine trees.
According to the clubs centenary booklet it was so dark there was no guarantee the players would end up with their own clothing after training and apparently one player knocked himself out running into a power pole.
In 1947 the club decided to enter a team in the senior competition and surprised everyone by winning the Watters Cup, with 11 victories from 15 matches.
The club leased a portion of land on Middle Road in 1952, which later became Argyle Park.
An old classroom was purchased from Allenton School and moved to the park to become the clubrooms.
In 1973 the club moved to its current Melrose Road site on land purchased from the Melrose family.
Club members built new clubrooms and Doug Hood supplied machinery and operators at no cost to turn the paddocks into rugby grounds.
The rooms were officially opened by Walter Tonks on April9, 1977 and a match was played to mark the occasion featuring All Blacks Fergie McCormick, Terry Mitchell, Tane Norton, John Ashworth and Doug Bruce.
Robert Woodham gave a sizeable donation in 1992 which enabled many changes to the grounds which now include rugby, soccer and hockey fields, a cricket pitch and netball courts.
The original club colours were blue and grey hooped jerseys, but because grey fabric was scarce, maroon and gold jerseys were worn for the first time in 1949.
Club committee member Tom Sutton who has been with the club since the mid-1950's said the new strip also matched Allenton School so the players would only need one jersey for club and school games.
''Back in the day our mothers used to have two rugby jerseys, so the change made it easier,'' he said.
The future of the club is looking bright although they lost their senior team in 2009, they now compete in the Senior B competition winning the trophy in 2011 and 2021.
Former club president Todd Grieve said the club is going up in numbers each year.
The club has 11 JAB teams, a colts team and senior B team.
Club president Luke Maginness said the club will hold several events on May 12 and 13 to celebrate the centenary.
''On the Friday night we'll have informal drinks here at the clubrooms, and then Saturday we've got our club day where all our teams will be playing here, that evening we will have dinner at Hotel Ashburton.''
Todd said it was agood club to belong to because ''it is very family oriented, a lot of names dribble down the generations.''
Luke said it is a club were a lot of people put their hands up to help, ''there's lots of people giving up their time, there is never a shortage of coaches or managers, people to help to fundraise or be in the committee, it's really well supported by its members,'' he said.