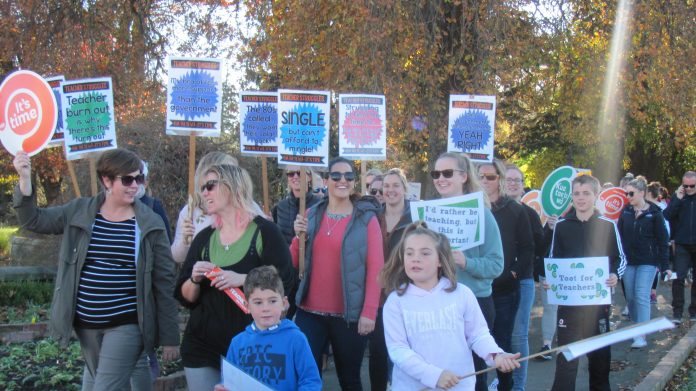 Mid Canterbury kindergarten, primary, secondary school teachers and principals are banding together on Thursday in a strike action march.
They will gather at the Wills Street entrance of the Ashburton Domain from 10.30am and march in unity for better work conditions.
New Zealand Educational Institute (NZEI) Mid Canterbury branch primary representative Donna Watson said there will be a few brief speeches from representatives from the NZEI, Post Primary Teachers Association (PPTA) and Principal unions before marching along the West Street footpath towards Moore Street from 11am.
NZEI members will then stand on both sides of the road with PPTA and NZEI Principal colleagues waving placards and banners for an hour. It will be on rain or shine.
The strike action comes after nationwide members of the respective unions voted to take industrial action to protest against the lack of progress with collective agreement negotiations.
It is the first time kindergarten teachers will joining their primary and secondary colleagues in strike action.
The historic occasion will see around 50,000 educators together across the country to show they are serious about needing change.
Educators are seeking pay rates and conditions to keep skilled and experienced teachers in the classroom, make teaching an appealing career choice and encourage ex-teachers back to the classroom.
The strike decision was made after union members "overwhelmingly" rejected Ministry of Education offers.
NZEI president Mark Potter said the latest offer ''did little to address the concerns we have as a sector, and did not go far enough in ensuring that teaching is a valued and attractive profession."
The rising cost of living was an issue for teachers but the pay offer was only part of why union members rejected the Ministry's offer.
Staffing numbers and school and kindergarten funding remained important concerns, he said.
"This rejection of the offers and the move to a strike ballot is just the first step," he said.
"I'm sure our members will be making their voices and opinions heard from now until the general election."