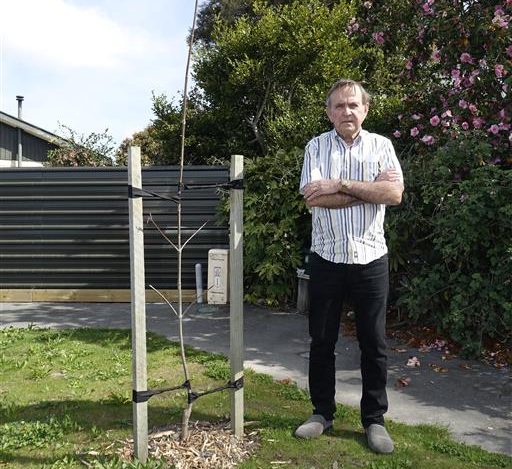 Ashburton resident Brian Walker is frustrated at the state of his grass berm, as it has bare patches and weeds.
But the district council says it is up to residents themselves to deal with these problems.
Walker said the saga began in 2020, when he and fellow Todd Place residents received a letter from the district council saying the cherry blossom trees along the street were to be replaced by dogwoods, and the grass berms were to be freshly sown.
While the 79-year-old had not been ''terribly happy'' about losing the cherry blossoms, he had accepted it at the time.
''I thought 'I quite like dogwoods','' Brian said.
But then the berm resowing had not worked outside his house, nor outside a neighbouring rental property. The two berms have weeds and bare patches, whereas berms outside remaining homes at that end of the street look okay.
Brian said he had complained to the district council. In response, staff replanted the grass, but Brian claims this was not done properly.
District group manager infrastructure and open spaces Neil McCann said rates do not cover berm maintenance or aftercare.
''We expect residents to watertheir berm and any trees, and deal with weeds,'' McCann said.
Brian said in response he was more than happy to maintain the grass berm, but not ''with a whole lot of weeds like that''.
''I object to a whole lot of weeds to start with,'' he said.
Brian and the district council are at odds over two other issues relating to the berm. He said the dogwood tree which had been planted on the berm looked as though it was dead, as it had not burst into leaf like others around the street had.
''It's just a stick,'' he said.
McCann said staff had checked the tree, and it was not dead. Rather it was ''firing off its growth'' a bit slower than other trees on the street, having been more recently planted.
The second issue is the district council not having replaced one of the cherry trees it took out, on another grass berm near Brian's home.
McCann said the berm was too small to plant another tree. Brian said this was ''rubbish'', there had been plenty of room there for the cherry tree prior.