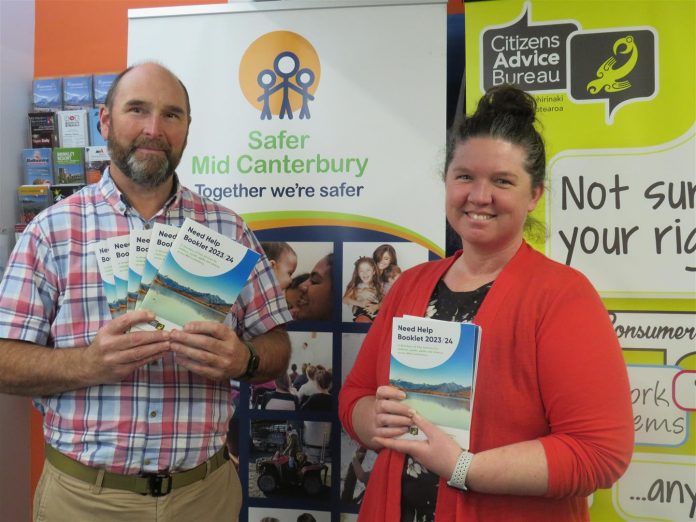 For over 17 years a booklet providing the community with the contact details of local helping agencies has been produced. Up until now the book has been produced by Safer Mid Canterbury.
Safer Mid Canterbury general manager Kevin Clifford said ''it is very important to have a hard copy edition of the helping books available because if people are anxious they need to be able to have something to refer back to.''
Mid Canterbury Citizens Advice Bureau (CAB) volunteer Coby Snowden has spent countless hours contacting organisations to ensure their details are correct.
While every care has been taken to have the contacts of agencies correct, ''there will be admissions and out of date information because things can change quickly,'' Mid Canterbury (CAB) co-ordinator Sarah Clifford said. If details need correcting or agencies want to be included in the 2024/2025 edition they can contact [email protected].
The digital version will be periodically updated.
The types of services listed in the book are community, counselling , cultural, disability, drug and alcohol, early childhood, financial & practical emergency assistance, health support groups, information and referral services, justice support, learning support, legal help, mental health, migrants, parenting, LGBTQIA+ Rainbow, relationship support and guidance, senior citizens, sexual health and pregnancy and youth services.
To be included in the directory ''the agency had to provide their service for free and be one that anyone could make a referral to,'' Sarah said.
The book has only just come from the printers but copies are flying out CAB's door. Some agencies have already requested more copies.
The books are being distributed around the district including schools, churches, waiting rooms, large employers, the CAB office at Community House, libraries, council, hairdressers and agencies.
Initially 3000 copies have been printed. The printing of the book is a collaboration between CAB, who have checked the information and uploaded it for both the hard and digital copies, and Safer who have funded it. The digital version is available at https://www.safermidcanterbury.org.nz/media/fmgjfweu/need-help-booklet-digitaldownload.pdf
The last edition of the book, thencalled Helping Hands was around 2018/19. The new edition includes agencies that work with the senior members of the community.
Following a survey it was decided that rather than multiple agencies holding lists of helping agencies one central point for those looking for help would be the most helpful.
To keep lists up-to-date ''is time consuming and repetitive,'' Sarah said.
There is a section with free 0800 helpline numbers and Sarah said ''we have included some details about what those agencies do so it's not just a number.''
As well as the booklet CAB has an extensive community directory on their website, ''it is contains lots more information about groups, organisations and agencies, links to other websites and in some cases referrals forms,'' Sarah said.
Many agencies are located in Ashburton and if people need to get into see agencies the Community Connector service is able to transport them to an appointment.